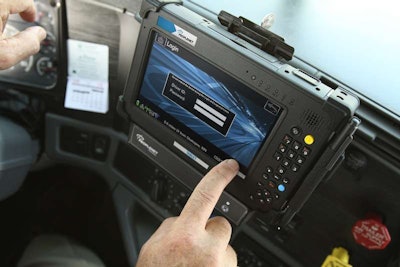 Undoing this year's hours-of-service rule changes, working on an electronic log mandate, fixing the Compliance, Safety, Accountability program and working to improve driver respect are some key areas the American Trucking Association wants to focus on in 2014, said its new Chairman Phil Byrd at the CCJ Fall Symposium Tuesday.
Byrd, president of Bulldog Hiway Express, was speaking to an audience of fleet executives at the Scottsdale, Ariz.-held event and said his group is working with the Federal Motor Carrier Safety Administration to fix what he called "fundamental flaws" of its CSA program, including lack of accounting for crash fault and public nature of the scoring.
ATA, he said, also will be pushing for the passage of the TRUE Safety Act — the legislation currently in the House that would undo the July 1 hours rule if enacted.
Driver respect among the public and among those in the industry — including shippers — is another area ATA hopes to key in on in 2014, Byrd said.
"And because the motoring public doesn't understand how we operate as an industry, they are disrespected by the people we share the roads with…when they arrive at our consignees to deliver the goods they receive much of the same disrespect when they loaded the freight. We have to change that. They deserve better."
Bryd also touched on infrastructure funding, saying U.S. highways are "literally crumbling beneath our trucks," and that Congress needs to take the steps to fix those problems.
Overdrive sister site CCJ has the full write-up on Byrd's address — Click here to see it.
The CCJ Symposium is produced by Overdrive owner Randall-Reilly.