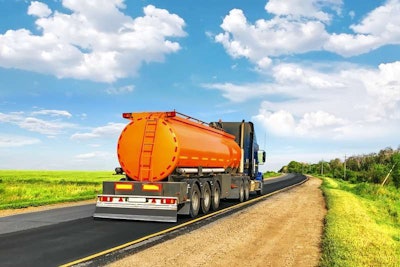 In response to a request letter sent to Secretary of Transportation Anthony Foxx by the National Propane Gas Association, the Federal Motor Carrier Safety Administration has issued an hours-of-service exemption to propane haulers in the Midwest and the Eastern regions of the U.S. due to "extreme arctic cold weather" that has caused shortages of propane in affected areas.
States in which propane haulers are exempt from hours rules include: Connecticut, D.C., Delaware, Massachusetts, Maryland, Maine, New Jersey, New Hampshire, New York, Pennsylvania, Rhode Island, Virginia, Vermont, West Virginia, Illinios, Indiana, Iowa, Kansas, Michigan, Minnesota, Missouri, Nebraska, Ohio and Wisconsin
The exemption took effect Jan. 19 and lasts until 11:59 p.m. Feb. 11.
The exemptions, FMCSA says, allow drivers "providing direct assistance supporting the delivery of propane and home heating fuels" to those states, and the exemption immediately expires when a driver or carrier uses the vehicle "in interstate commerce to transport cargo or provide services not directly supporting the emergency relief effort," according to the declarations.
Driver operating under the waiver of the rules must have a copy of the FMCSA declaration with them. Click here to download the declaration issued for the Eastern region, and click here to download the one for the Midwest.
In its letter requesting the exemption, NPGA listed several factors that it said the country's propane supply is "more than adequate," but that the propane industry has had problems getting that propane to its customers due to transportation and distribution.
Some of the factors causing problems in transportation and distribution, per NPGA's letter, include a late and wet grain and corn harvest that caused a spike in demand for propane for fuel grain dryers; the "polar vortex" that caused historically low temperatures in the East and Midwest regions of the U.S. and increased demand for propane; an overall lack of storage in the Northeast; the Cochin Pipeline, which carries propane from Canada to the Midwest and East, being down for maintenance in November and December; and change in energy flows in North America that have caused the natural gas and propane pipeline networks to be in a "state of transition," the letter says.
States in the affected regions had been issuing the waivers individually, but some affected states hadn't issued them due to a lack of resources, NPGA says.
FMCSA's waiver overrides previous state waivers and includes some states that hadn't issued waivers.