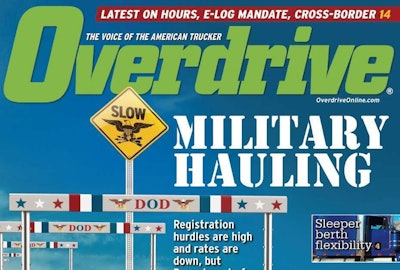 The Federal Motor Carrier Safety Administration has announced it has received a request from the Department of Defense (DOD) to renew its exemption from the 30-minute break requirement of the 2013 hours-of-service rule for its Military Surface Deployment and Distribution Command (SDDC).
SDDC currently holds an exemption for the period of Oct. 22, 2013, through Oct. 21, 2015. The request would extend the exemption from Oct. 22, 2015, through Oct. 21, 2017, if granted.
The SDDC manages the motor carrier industry contracts for the DOD. Certain motor carriers under contract to the SDDC provide protective services while transporting weapons, munitions and sensitive/classified cargo.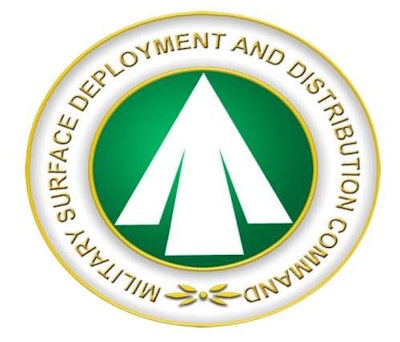 It is requesting a renewal of its limited exemption from the hours-of-service regulations pertaining to rest breaks. It asks FMCSA to allow SDDC-contracted drivers providing dual driver-protective services to be treated the same as drivers transporting explosives.
SDDC says that "shipments moved under the requested exemption would achieve a level of safety and security that is at least equivalent to what would be obtained by following the normal break requirements."
According to the request, continuous attendance and surveillance is required of such shipments until they reach their final destination.
SDDC says it has instituted several technical and administrative controls to ensure the efficient transportation of cargo requiring protective services – controls that would remain in effect under the requested exemption.
They include the following:
•Conducting review of carrier compliance requirements and procedures for moving hazardous cargo
•Evaluating carrier authority to operate on United States roadways
•Evaluating carrier compliance with the Federal Motor Carrier Safety Administration's Compliance Safety Accountability program Safety Measurement System standards
•Providing over-the-road vehicle surveillance
•Inspecting carrier facilities and corporate headquarters for compliance with DOD and DOT standards
SDDC said approximately 1,942 power units and 3,000 drivers will be covered by the exemption. Only two crashes were reported by SDDC in 2014 in which drivers were cited. Neither crash was caused by fatigue related to the 30-minute break.