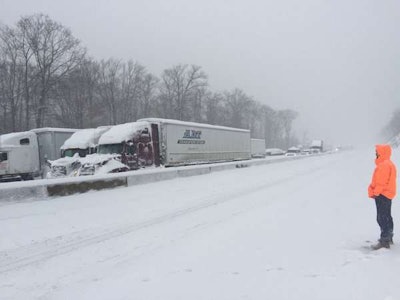 Update, 1/25: Updated to reflect issuance of a waiver in Kentucky.
Drivers have been stuck on the PA Turnpike for 16 hrs and counting…pounded by storm. I'm Live pic.twitter.com/NMxECPIkue

— Sheldon Ingram WTAE (@SheldonWTAE) January 23, 2016
North Carolina, South Carolina, Tennessee, Virginia and West Virginia have issued temporary and limited hours-of-service exemptions for certain relief load haulers in the wake of the historic winter storm that impacted about a third of the U.S. population.
Governors in those states have issued emergency declarations instituting the hours waivers. Here's a look at each:
Kentucky: An hours exemption has been issued in the state until Jan. 31 for drivers hauling feed and live poultry. See a copy of the declaration here.
North Carolina: North Carolina's hours waiver applies to drivers carrying "essential fuels, food, water, medical supplies, debris removal, feed for livestock and poultry,..livestock and poultry" and for vehicles aiding in utility restoration. The state has also issued a waiver of size and weight limits for vehicles carrying either equipment or supplies needed to restore utilities or remove debris, along with drivers hauling livestock and poultry or feed "in the emergency area." N.C.'s size and weight waiver extends the allowable weight limit to 90,000 pounds and vehicle length limit to 75 feet long and 12 feet wide. N.C.'s waiver will remain effective for 30 days (until Feb. 20) or through "the duration of the emergency, whichever is less." Find a copy of the waiver here.
South Carolina: Because state law requires South Carolina to follow North Carolina's lead in issuing emergency declarations, S.C. Gov. Nikki Haley has also signed an emergency waiver temporarily suspending hours rules for truckers hauling "fuel, food, water or other goods to" North Carolina, according to the declaration. It will stay in effect for seven days (until Jan. 28) or until conditions subside, it says. See the declaration at this link.
Tennessee: Tennessee Gov. Bill Haslam issued Jan. 21 a temporary exemption to food haulers in the state, good until Jan. 27, citing storm-caused disruptions in the state's food supply and delivery. See a copy of the declaration at this link.
Virginia: Virginia Gov. Terence McAuliffe's Jan. 21-issued emergency declaration allows relief load haulers temporary waivers to hours-of-service rules and size/weight limits. According to the waiver, drivers carrying "emergency relief supplies, passengers, property, livestock, poultry, equipment, food, feed for livestock or poultry, fuel, construction materials and other critical supplies to or from any portion [of Virginia] for purpose of providing direct relief or assistance as a result of this disaster" are exempt from federal hours-of-service limits until March 1 or until the state rescinds the order. Click here for a copy of the declaration.
West Virginia: West Virginia has issued a very limited hours-of-service waiver for propane haulers, exempting them of the federal 60/70-hour limit only when all drivers for their carrier have reached their 60/70-hour limit. See the waiver at this link.
-James Jaillet
Eastern U.S. roads returning to normal
New York City has ended its travel ban and the Pennsylvania Turnpike reopened to commercial vehicles as Eastern states recover from a record blizzard.
Since Friday, the storm the Weather Channel christened Jonas, the Washington Post's weather blog called Snowzilla, while Slate readers favored David Snowie, dumped up to 3 feet of snow in some locations. Although the interstate traffic backlog in Charleston, W.Va. and on the Pennsylvania Turnpike near Somerset has cleared, emergency waivers of trucking regulations remain in effect for several states.
NYC had suspended travel after Central Park tallied almost 27 inches of snow, the second largest total accumulation since 1869. The Pennsylvania Turnpike ended a temporary ban on commercial vehicles system wide and lifted a 45 mph speed limit. After up to 3 feet of snow fell on the Turnpike, trucks jackknifed near Someset and traffic backlogged.
-Jill Dunn