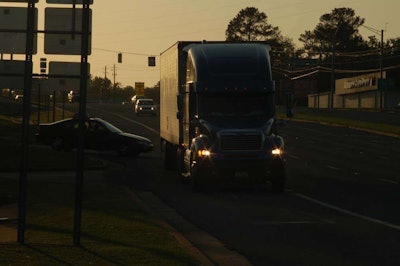 In what could become a clash between lawmakers in the U.S. House and a Department of Transportation aiming to propose an overhaul to drivers' hours of service regulations, a working version of the annual Transportation Department funding bill released by the House's Appropriations Committee last week would bar the DOT from eliminating the 30-minute break requirement of current hours regs.
The 30-minute break, required within a driver's first eight hours on-duty, is one of the most unpopular provisions among truckers within current hours regs, alongside the 14-hour rule. The DOT has not said whether it intends to alter the 30-minute break, which took effect in 2013, with its looming proposal to overhaul hours of service regulations. Some sources from other Overdrive reporting have, however, speculated the 30-minute break may well be altered or removed altogether, and DOT specifically requested feedback from drivers on the break in its 2018 Advance Notice of Proposed Rulemaking. The ANPRM signaled that the break requirement was at least under evaluation by DOT officials.
The DOT funding bill cleared last week by the House's Appropriations Committee is only a draft, and it must pass the full House and the Senate and be signed by President Trump before becoming law.
In addition to prohibiting the DOT from eliminating the break, the bill would retain for another year (until Sept. 30, 2020) the ELD exemption granted to livestock and bee haulers.
The draft bill, oddly, would also block the Federal Motor Carrier Safety Administration from "[reviewing] and [issuing] a decision on a petition to pre-empt state meal and rest break laws," despite the fact the U.S. DOT has already issued such a decision. In December, FMCSA issued a ruling exempting carriers from compliance with such state laws, specifically regarding California laws requiring employers to provide paid rest breaks and meal breaks. FMCSA's ruling applies to any other states that would take up such laws, too.