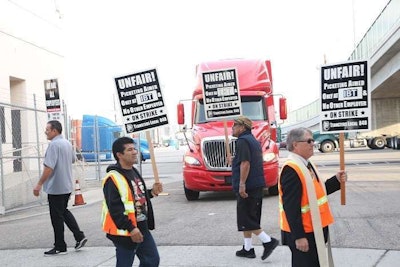 Less than two weeks after the U.S. DOT declared that motor carriers are exempt from California's meal and rest break laws, the Teamsters Union is already seeking a challenge in court.
The group filed a petition with a federal appeals court on Dec. 27 asking for a review of the Federal Motor Carrier Safety Administration's decision, issued Dec. 21. FMCSA asserted that carriers do not have to provide drivers with the meal and rest breaks dictated by California's labor code. The California laws conflict with federal hours-of-service regulations, the agency says, and therefore are superseded by federal law. The agency said that, despite being more stringent, California's break laws do not provide greater safety benefits than federal hours regs.
The Teamsters Union filed their petition Dec. 27 to the 9th Circuit Court of Appeals — the same court that ruled in 2014 that carriers must provide drivers with the California-dictated breaks. Those breaks include a 30-minute meal break for every five hours working and a paid 15-minute rest break every four hours.
The union, representing drivers in the case, says the DOT's decision "is simply a giveaway to the trucking industry at the expense of driver safety."
"FMCSA's suggestion that California's meal and rest break rules negatively impact highway safety is ludicrous," the Teamsters said in a press release.
Industry groups like the American Trucking Associations, the Western States Trucking Association, the Truckload Carriers Association and others had fought the 2014 9th Circuit ruling in Congress and, later, via FMCSA, who sided with the groups in their Dec. 21 exemption notice. The 9th Circuit's decision came in the case of Dilts v. Penske.
The Teamsters' petition asks that the 9th Circuit Court of Appeals to "reverse [FMCSA's] ruling in its entirety or for such relief as the court deems proper."
ATA and WSTA argued that the California break laws, in addition to conflicting with the federal hours of service rule, prompted a wave of lawsuits against carriers in the state. Many of those lawsuits led to expensive payouts to drivers who weren't afforded the breaks.