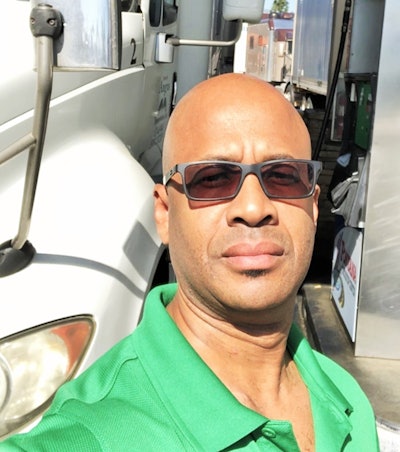 A talk here with the owner of, and a contractor to, Southern California-based Angus Transportation, the now three-truck business of Jimmy Nevarez, the source of the quotation in the headline here. Nevarez has two owner-ops leased on under his authority today as independent contractors and running dry freight in food-grade vans utilizing mostly regular broker partners.
One of his leased owner-ops, Darril Lightburn (pictured above), runs in a 2009 ProStar in a percentage-type compensation arrangement there, as does the other contractor. I spoke with Lightburn and Nevarez for the latest edition of the Overdrive Radio podcast, given the latter's past experience hauling rail intermodal containers in the region where they're based. The conversation was in part attendant to reporting for a feature you'll see in the February issue of the magazine about the independent contractor classification, challenges to it via West Coast courts and other areas, and its erosion from within by too many companies around trucking with lease-purchase and other leasing-type arrangements that make it next to impossible to succeed, much less be afforded any truly independent status with negotiating power.
Union efforts and attendant litigation in the ports, and some high-profile examples of muckraking-type journalism over the past years, exposed some of the most egregious examples but wrapped up a lot of other carriers in the legal stew out West, too.
At the same time, though, the traditional percentage-pay method of small fleets with lease agreements with owner-operators survives — and in this case thrives. Yes, even in California, as Lightburn and Nevarez are evidence of. It's a wide-ranging talk, hitting on the problematic nature of the "ABC" independent contractor classification test ruled appropriate for use out in California last year, the pushback against that by trucking groups and more. Take a listen: