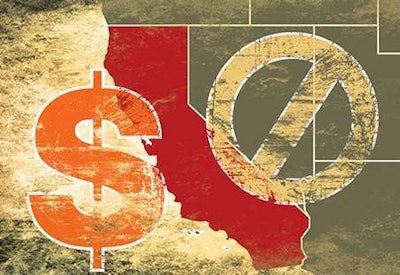 The California legislature last week stamped approval on a sweeping legislative package that could dramatically alter the landscape for leased and independent owner-operators in the state, likely leaving such truckers who work in California with tough decisions about the future of their operation.
Leased owner-operators who live in California or operate frequently there could in time be forced to switch carriers. Or they may have to make a decision to transition to being either an employee of a carrier or an independent owner-operator with authority, should they wish to continue working in California.
"There will be a big decline in opportunities for owner-operators in California," says Joe Rajkovacz, head of government affairs for the Western States Trucking Association. "You're probably going to see an exit from the marketplace of motor carriers leasing owner-operators," he says. He noted Swift and Werner have already pulled the plug on contracting with owner-operators in California.
Likewise, speaking earlier this month, California Trucking Association's Chris Shimoda said the new law, California Assembly Bill 5, "could put legitimate owner-operators out of business."
A.B. 5 codifies into state law the so-called ABC test for determining whether a worker is an employee or a contractor. The test was validated as appropriate in California last year by the state's Supreme Court in the case of Dynamex vs. Superior Court.
Most difficult for trucking, the B-prong of the ABC test prevents employers from contracting with workers that perform the same work as the business itself. That effectively means carriers can no longer lease owner-operators and their equipment to haul freight under traditional independent contractor agreements.
California Gov. Gavin Newsom signed the bill Wednesday, and the law will take effect Jan. 1. Beyond trucking, A.B. 5 could impact millions of workers in the state, including drivers for ride-sharers Uber and Lyft, software coders, hair dressers, nurses, construction workers, dog walkers and even exotic dancers, among other workers.
Attorney Greg Feary, partner of the firm Scopelitis, Garvin, Light, Hanson and Feary, says owner-operators who work in California — especially those who live in the state — need to ask their motor carriers whether they will change their model in light of the new law and then make decisions accordingly.
Carriers, for instance, could choose to wait on decisions in pending court cases at the federal 9th Circuit Court of Appeals, which could rule that federal law supersedes California's law. Such a ruling may offer relief from A.B. 5 and likely would mitigate its effects on owner-operator leasing by carriers.
Jason Geller, managing partner at the San Francisco office of the Fisher Phillips law firm, says such a "wait and see approach" could be a smart path for owner-operators intially. Carriers he's spoken to aren't in a rush to make changes, he says. In addition to waiting on rulings from the 9th Circuit on the issue, carriers are also holding out for potential changes to the law during the next legislative session.
"Proceed cautiously from the outset," he says. "I think a lot of companies are playing the wait and see approach. They're not making any rash decisions immediately to reclassify drivers."
However, carriers are often risk-averse, Rajkovacz says, and many could choose to cut ties with owner-operators in the state to curb their potential liability.
Another approach carriers may take to navigate the law is to establish brokerages separate from their trucking operations and funnel loads to owner-operators that way, says Feary. However, those operators would need to be independent carriers operating under their own authority, rather than the typical owner-operator lessor model, in which operators work under a larger carrier's authority.
That's a challenging proposition, he says, given the rising costs of liability insurance for new independents and other hurdles when transitioning to operating with authority.
Even for carriers that aren't based in California, A.B. 5 could disrupt their owner-operator model. For out-of-state carriers who have independent-contractor agreements with owner-operators that live in California or that operate frequently in the state, says Feary, "the likelihood is nearly certain" that those carriers will need to comply with A.B. 5. "For out-of-state motor carriers with out-of-state owner-operators who only infrequently deliver into the state or pick up loads from the state, I think it's much more of a question of whether A.B. 5 would even apply to them."
Though the new law takes effect Jan. 1, challenges may be in the offing, given the backlash against it.
There likely will be additional legislation next year to clarify or change the law, said Shimoda. However, it's uncertain "whether or not trucking gets a fix that works to allow independent truckers to operate" as they do today, he says.
CTA will be working with legislators to try to find paths for legitimate owner-operators to continue to work in California, he says.
Uber and Lyft, whose business models could be upended by the law, have signaled they do not intend to comply, and instead hope to push the law to a referendum in 2020.
In addition to legislative fixes next session, courts could also intervene, says Feary, particularly as it relates to trucking. "The courts might interpret the law as it relates to interstate operations and affect its application to interstate trucking," he says. "It's so controversial and has so many opponents, this is one of those few laws that probably will be touched in some way, whether by the legislature changing it next year, by a referendum in the 2020 election or by the courts – or maybe all of the above."
NASTC points to safety concerns
In making the "leased owner-operator business model essentially illegal" for companies domiciled in the state, noted David Owen, head of the National Association of Small Trucking Companies, California "doesn't have a clue what this will do to their safety numbers. They're getting rid of the best business model they have as far as safety is concerned."
State lawmakers, in their concern over employer-contractor relationships, Owen suggested, really "haven't thought this out, or they just don't care about safety."
OOIDA an outlier on A.B. 5's implications
The Owner-Operator Independent Drivers Association, despite the warnings of other trade groups and attorneys about the law's implications, has spun A.B. 5 as some what of a positive, or at least a neutral, development.
In a statement to Overdrive, OOIDA says that carriers in California have been wrongfully classifying drivers "for decades." The group supported the legislation's passage.
"Lease-purchase schemes have plagued the industry for a long time, and there are plenty of carriers that take advantage of traditional lease agreements as well," the group said. "However, there are equally as many truck drivers that truly are independent and we're concerned that codifying a complex court decision [Dynamex] might go too far. Our hope is that this legislation will force motor carriers in California to rethink the way they treat drivers and either hire them as employees or restructure traditional lease agreements to give owner-operators real independence."