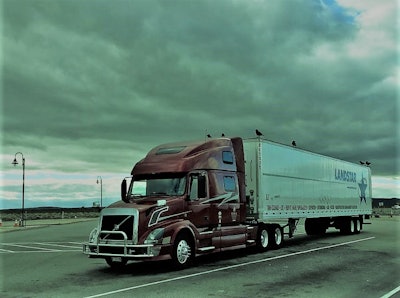 Prime Inc., which contracts with nearly 6,000 owner-operators, is offering its California-based owner-operators the option to either move out of the state or transition to company driver if they wish to continue operating with the fleet after the state's sweeping new labor law takes effect Jan. 1.
The fleet, one of the largest in the country, said it will provide owner-operators with relocation packages if they wish to move and remain owner-operators. A Prime spokesperson did not elaborate on how many operators would be affected.
Prime is the latest fleet to announce it would be overhauling its California operations to deal with the state's  Assembly Bill 5 — a restrictive legislative package that effectively makes it illegal for fleets to contract with owner-operators under their authority. Swift and Knight, part of the Swift-Knight conglomerate, reportedly cut ties with its California owner-operators earlier this year, offering those truckers the option to leave the state or sell their equipment to the fleets and become company drivers.
Landstar, the country's largest owner-operator fleet, confirmed to Overdrive last week that it is calling its California-based owner-operators to discuss options, too, but the fleet would not elaborate on available options.
Landstar owner-operators familiar with the calls have said the choice is simple: Leave California or "they're done at Landstar," said one of the company's owner-operators, who wished to speak anonymously.
Landstar declined to comment on that interpretation or whether drivers would be offered relocation packages.
Owner-operator Ivan Mikhov, based in Sacramento, is one such operator facing A.B. 5's existential threat. He has four brothers also leased as individual one-truck businesses to the company, and all have been told that, in order keep their contracts into the new year, when the new contractor law goes into effect, they must either commit to only hauling loads that originate outside the state, or else relocate to another state and update their CDL from their current California licensing.
"We're trying to decide" exactly what to do, Mikhov says. "We'll probably move," perhaps to Oklahoma where the Mikhovs have at least some family.
There was a third option put to them, too, which would fundamentally alter their relationship to their leasing carrier – getting authority and working through Landstar, among other companies, as a broker. Mikhov doesn't really see that as an option, given the attractiveness of the relative safety net afforded by being part of the large independent contractor network Landstar is.
A brother, Vadin, has been there, done that, in recent memory, Mikhov says. It was great for him while the high-rate environment in 2018 lasted for "eight to 10 months, but then he had to renew his insurance" – to the tune of $15K or so – "and rates were so bad, he came back."
Whatever the owner-operators decide, though, at least they've got family to lean on, to make the decision and what will surely be a difficult relocation together. "I won't overwhelm myself," Mikhov says. "If we go somewhere, we'll do it together – we'll stay in the same town," part of their collective business-to-business loose partnership today, working with Landstar agents who well know they're all related and can be counted on to cover loads when one or another of them aren't available. "It's like what we do now in Sacramento," he adds, on multi-load deals — "we all go pick up and go together."
This Thanksgiving, he adds, will be bittersweet, given big family ties in the area for the group, with roots and further family in Russia and Ukraine. "We're all going to get together here," in California. "We're a big family – eight brothers and four sisters" and more.
Next year, it's looking like that's going to be harder to pull off.
Meanwhile, he's contemplating real estate sales in the Golden State. Relocation, ultimately, he knows, isn't exactly like trucking. "You can't just put everything in the trailer and go," he says.