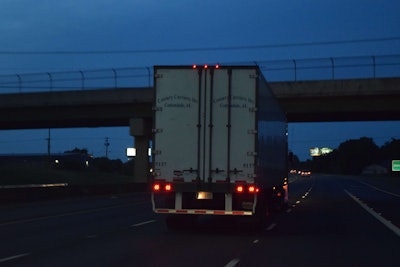 The Federal Motor Carrier Safety Administration announced Wednesday its decisions on five requests for relief from various provisions in the hours of service regulations. Of the six requests, FMCSA granted two and denied three.
The agency granted separate requests from the National Waste & Recycling Association and Kimble Recycling & Disposal that will allow their short-haul drivers operating under the short-haul exemption to extend their day beyond 12 hours. NWRA members' drivers and Kimble drivers in the waste and recycling industry will now be allowed to return to their work-reporting location within 14 hours of coming on duty, rather than the 12 hours required by the regulations.
FMCSA says it is granting the requests because it does not allow for additional driving time, and drivers would still be limited by the weekly 60- or 70-hour limits.
This requests are in line with FMCSA's proposed hours of service changes, which would also extend the short-haul exemption on-duty time from 12 hours to 14 hours.
FMCSA denied a joint request from the American Bakers Association and International Dairy Foods Association that would have exempted baked goods and milk delivery drivers from maximum driving time limits during natural disaster emergency situations.
The agency says the groups did not provide an analysis of the potential safety impacts of the requested exemption or countermeasures for ensuring the exemption wouldn't negatively impact safety.
Another exemption request denial was handed out to North Shore Environmental Construction, which petitioned FMCSA for a break from the 14-hour rule for drivers responding to environmental emergencies. The company requested that its drivers be allowed to operate up to four-and-a-half hours beyond the 14th hour of coming on-duty.
FMCSA says in its denial that "there is no basis for granting an exemption that would allow an individual to drive after the 18th hour after coming on duty when there is no mandatory off-duty time included within the 18-hour period." The agency adds that North Shore essentially asked to extend the on-duty period by four-and-a-half hours in exchange for a three-hour reduction in the driving time limit.
Another joint request, filed by Wolfe House Movers and Wolfe House Movers of Indiana, was denied after the companies requested an exemption from the 60 hours in seven days rule for their drivers transporting steel beams and dollies to and from various job sites for lifting and moving buildings. The companies asked to allow their drivers to operate up to 70 hours in a six-day period because they do not operate on Sundays for religious reasons.
FMCSA says it denied the request because the companies did not demonstrate how their drivers would maintain the same level of safety as operating 60 hours in six days.