Trucking news and briefs for Friday, July 29, 2022:
D.C. appeals court rejects Teamsters'/safety groups' hours of service petition
A legal challenge to the Federal Motor Carrier Safety Administration's 2020 hours of service changes was decided this week, as the U.S. Court of Appeals for the District of Columbia rejected the petition put forward by the International Brotherhood of Teamsters, Advocates for Highway and Auto Safety, Citizens for Reliable and Safe Highways and Parents Against Tired Truckers. The union and the nonprofit groups sued FMCSA over the changes to the regulations, alleging among other things that FMCSA had not appropriately grappled "with the safety and driver-health consequences of changes," particularly those to the 30-minute daily required break and the short-haul logbook exception, according to the final opinion.
The court, however, found the hours of service changes to have been "sufficiently explained and grounded in the administrative record," and thus denied the petition.
The groups had said that, in changing the 30-minute break rules to allow the break to be taken on-duty rather than requiring it to be taken off-duty, FMCSA did "not account for fatigue from non-driving work or consider the effect of the changes to the 30-minute break requirement on the benefits that FMCSA attributed to that requirement when it adopted the requirement in 2011." The petition called changes to the short-haul logbook exception into question by alleging revised HOS regulations, which extended the allowable operating radius and daily on-duty hours for drivers to be able to operate under the exception, didn't contain a rational explanation for the change.
FMCSA had responded to the groups' concerns by noting they "failed to provide the court with sufficient evidence" to support their claims.
[Related: Another case for more flexible hours of service, small trucking's voice]
Carrier Transicold intros new fuel-efficient reefer units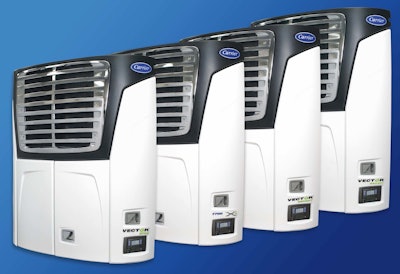 Carrier Transicold is introducing four new trailer refrigeration units that the company said offer double-digit fuel efficiency improvements and lifetime compliance with emissions requirements of the California Air Resources Board (CARB).
The new systems include two single-temperature units, the Vector 8700 and X4 7700, and two multi-temperature units, the Vector 8800MT and Vector 8811MT. All four reduce particulate emissions by 96% compared to current offerings and, depending on the application, improve fuel efficiency from 5%−20%.
"Whether interested in boosting fuel efficiency, seeking compliance with stricter emissions regulations or both, North America's trucking fleets will soon have four new options," said Steven McDonald, Trailer Product Manager, Truck Trailer Americas, Carrier Transicold.
McDonald added that the units will be available for order later this year and will be delivered in 2023.
The new units take advantage of an advanced version of the proven Kubota engine used throughout Carrier Transicold's existing trailer platforms. All four models also use R‑452A, a CARB-compliant, new-generation refrigerant with a global warming potential 45% lower than that of the traditional TRU refrigerant, R‑404A.
Additionally, all are equipped with Carrier Transicold's telematics solution for remote monitoring of temperatures, location, movement and system operating performance. To help maintain battery charge supporting the unit and its telematics system, Carrier Transicold now also offers its TRU-Mount solar panel as a factory-installed option.
Carrier Transicold's Vector units feature E-Drive all-electric refrigeration architecture for efficient performance and reduced maintenance.
Driver receives Highway Angel wings for offering water to motorists in traffic jam
Salt Lick, Kentucky-based truck driver Robert Simpson has been named a Highway Angel by the Truckload Carriers Association for offering cold water to passengers stuck in an hours-long traffic jam in 90-plus degree heat. Simpson drives for Meiborg Brothers Inc., out of Rockford, Illinois.
On June 17, Simpson was on I-65 South near Franklin, Kentucky, stuck for more than two hours in a massive traffic jam. The temperature was well over 90 degrees. Simpson noticed a van pulled over to the side of the road he thought was having mechanical issues, and considered that the air-conditioning was not working.
"It looked like it might be one of those military shuttles for the VA," Simpson said. "I'm a retired veteran, my wife's a retired veteran. So I got to thinking while I'm sitting there in traffic -- maybe they could use a water."
Simpson approached the vehicle with four bottles of cold water from his truck and offered it to the passengers.
This simple act of kindness was noticed by other motorists stuck in the traffic, who then posted it on social media.
As it turned out, the van was not connected with veterans, and its passengers were not in need of water, but nonetheless, Simpson's kindness struck a chord with witnesses to the gesture.
"I didn't want to see a veteran sitting on the side of the road without water," said Simpson.
TCA presented Simpson with a certificate, patches, lapel pin, and truck decals. Meiborg Brothers also received a letter acknowledging him as a Highway Angel.