Trucking news and briefs for Friday, Feb. 25, 2022:
Truck driver shut down by FMCSA after fatal crash, drug violations
A Texas-licensed truck driver has been effectively shut down by the Federal Motor Carrier Safety Administration after his involvement in a fatal crash.
According to FMCSA, on Feb. 3, truck driver Christopher M. Savannah was driving on I-75 in Loudon County, Tennessee, when he was involved in a crash. FMCSA says Savannah failed to stop his truck upon encountering a roadblock conducted by Sgt. Chris Jenkins of the Loudon County Sheriff's Office. Jenkins had activated the emergency lights in his patrol vehicle to retrieve a ladder that had fallen on to the interstate.
Savannah struck two vehicles stopped ahead of the roadblock and then struck Jenkins, who had exited his patrol vehicle. Jenkins was killed, and the driver of another vehicle sustained injuries.
Savannah was subsequently issued multiple traffic citations, and the state of Tennessee has filed criminal charges against him.
During the post-crash investigation, Savannah admitted to using marijuana the morning of the crash, and marijuana was also found inside the vehicle. A subsequent drug-influence evaluation determined Savannah was under the influence.
Additionally, at the time of the crash, Savannah did not have a record of duty status for that date and the previous seven days, as required.
Follow-up investigations by FMCSA revealed Savannah previously tested positive for marijuana during a pre-employment controlled substances test on March 31, 2020. As a result, he was prohibited from operating a truck in interstate and intrastate commerce and was designated as "prohibited" in FMCSA's Drug and Alcohol Clearinghouse. His CDL had been likewise downgraded because he failed to maintain a current medical certificate.
Telematics now standard on Carrier reefers
Carrier Transicold announced Thursday it is making telematics a standard feature on its most popular trailer refrigeration units.
By offering telematics as standard for the X4 and Vector 8000 series trailer and rail refrigeration units, company Director of Telematics David Brondum said, it's "easier than ever for customers in the United States and Canada to benefit from the considerable advantages."
According to Carrier, the web-based interface of the telematics system provides continuous visibility of cold chain assets via a centralized data stream that shows trailer temperatures, location and movement.
The platform can also enable remote control of refrigeration unit settings. Connected fleets can improve operations by optimizing refrigeration equipment usage, achieving greater efficiency and helping to manage refrigeration unit maintenance, the company said.
Standard hardware includes the 4G LTE communications module, antenna and wiring harness. Optional peripheral components such as fuel sensors, temperature probes, door switches and solar panels can be spec'd as needed. Customers who take advantage of Carrier Transicold's telematics system can also gain data insights from future releases of the company's "Lynx Fleet" application.
Pennsylvania dealer's new location
Kenworth of Pennsylvania's Muncy parts and service dealership has relocated to a 24,600-square-foot facility four times the size of its previous location.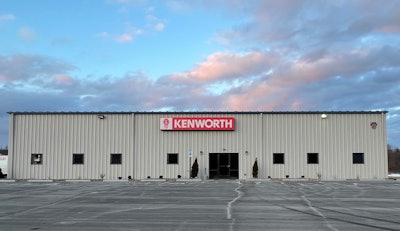 The new facility will "help us support our customers with improved uptime and parts availability," said Tim Mitchell, Kenworth of Pennsylvania president.
It's at 80 Fitness Drive in Muncy, approximately 5 miles from its previous facility. Hours of operation are 7 a.m.-5 p.m., Monday through Friday. Kenworth of Pennsylvania operates nine Kenworth parts and service locations in Pennsylvania.
DOT announces $450 million in grants for port projects
The DOT recently announced its largest-ever investment in port-related projects with nearly $450 million in newly available grant funding available through the Port Infrastructure Development Program.
The grants "are awarded on a competitive basis to support projects that will improve the movement of goods to, through and around ports" and projects also must comport with the Biden administration's goals of "strengthening resilience, reducing emissions and advancing environmental justice."
The grants come at a time of record supply chain snarls surrounding the biggest U.S. ports, which Overdrive reported on in depth in a "Niche Hauls" series report on intermodal work in October.