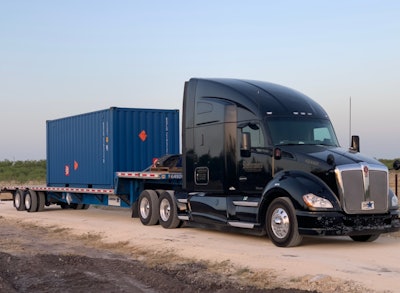 Courtesy of Lance Buttermore
Previously in this series: Intermodal haulers fight off a 'system collapse' at ports as Biden pushes for more productivity
Owner-operator Lance Buttermore is leased to Landstar, and his 2015 Kenworth T680 pulls military freight and just about any container load that pops up at the ports from Landstar's network of freight agents. Buttermore has carved out a niche for himself doing brisk business around the West Coast ports and hauling loads far out east, where he snags a good rate on his return to his home base in Arizona because "nobody wants to go to Phoenix," he said.
Buttermore's cashed in on good rates with increased demand at the ports, yet ripple effects could linger for years in the form of higher goods costs for consumers -- and small trucking businesses, too.
Unlike Oakland Port Services Corporation small fleet owner Bill Aboudi in Oakland, owner-operator Buttermore hasn't seen many serious issues running out of Long Beach, his most common port of call. But he can certainly testify to the chaotic environment.
"It's hard because every single port is completely different, and just because you're at the right port doesn't mean you're at the right entrance, or the right stage," he said.
Buttermore spoke of byzantine signage that frequently changes without explanation. "We're just kind of thrown to the wolves. I've had crazy stuff happen, like security driving circles around my truck, throwing his hands up, and because of COVID they wouldn't even talk to me."
For the more local work that Aboudi specializes in, the prospects of dealing daily with port terminal operations is an increasingly difficult ask for qualified operators. "We can't find drivers," Aboudi said. "Nobody wants to deal with the terminals. It's an abusive environment in terms of what you have to go through. They don't think of you as a human being. They count you as a truck. So they say, 'Oh, the truck has been here for five hours.' No, it's the driver that's been there for five hours and he's got, you know, bio functions that he's gotta do. He's gotta eat. It's hot and miserable. You know, they don't think of it that way."
As did Nimesh Modi, CEO of Bookyourcargo.com, Aboudi said the port's problems date back long before COVID, but the pandemic emergency has made port terminals even more unpredictable due to constantly evolving safety and cleaning practices.
Aboudi does his best to use his experience and know-how to protect his drivers from deteriorating conditions at the ports, but conditions have continued to decline.
Buttermore for his part has succeeded in acquiring a knack for the process. "When you're armed with the right stuff and got your numbers right, from there you're just taking educated guesses," he said. "I'm never afraid to ask questions. Otherwise, you can end up making three or four U-turns."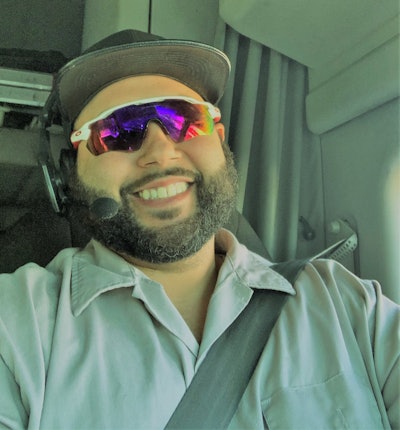 Buttermore earns percentage pay for Landstar, where he can average up to $3.75 or four dollars a mile in revenue in today's environment.
"Landstar takes 27% of all linehaul. I get 100% of accessorials and the fuel surcharge, but I book for a really high rate," he said. Buttermore also avoids the chassis shortage and charges on occasion by running his flatbed or step deck.
While he did say sometimes he can get stuck in the ports for four or five hours, he says he's typically got his time down to about an hour and a half. "If you're gonna run the ports, I like to be there early or after rush," he said. "Post-9 a.m., pre-6 a.m." Get there between those times and "you're gonna be a mad person by the point when you get to the port."
But while Buttermore has cashed in on good rates out of the ports, he's noticed the overall supply chain crunch hitting him as a consumer, as he's seen wait times for parts balloon to up to six months. Even a simple AC compressor took him four and a half weeks to find, and when he did find it, he said the shop told him it was their last one for some time, and the first they'd had in a while.
In the long run, Modi said, neglect at the ports will eventuate in a tiered system for the American consumer. Modi described how customers who would normally order 500 dishwashers for a season have multiplied their orders in light of shortages, now demanding 1,000 or 2,000 dishwashers to service the spike in demand from their own customers. Before long, Modi added, when looking to buy a new car, something heavily dependent on container shipping as semiconductors come from overseas, buyers will likely have to choose between a fair price and prompt delivery.
Furthermore, Modi said that in his experience working with more than 17,000 trucking companies and a similar number of shippers, there's no love lost between the parties as costs rise. "Every trucking company has the same philosophy: 'I know you very well, but I can't do it at the same rate I used to.'" --Senior Editor Tom Quimby contributed to this report.
Next in this series: Inland intermodal -- trucker Angela Shufeldt's bread and butter
Associated podcast: Supply-chain crunch at the ports: Perspective from out East