Previously in this series: Sky-high rates turn intermodal challenges into opportunity
Angela Shufeldt has been driving a truck for 29 years, with the last nine hauling intermodal for JB Hunt, the largest outside carrier of intermodal freight in the country. With its own maintenance facilities built into rail yards around the country and its own chassis and trailers, Shufeldt said, J.B. Hunt has largely kept itself on track as the pandemic compounded longstanding congestion issues and other difficulties at the ports.
Shufeldt hauls out of rail yards, not ports, which has largely insulated her from major workflow changes, she said. All through COVID, "we were able to work at the rails. We were the main bread winners of a lot of families. A lot of families didn't have that opportunity."
But Shufeldt, who mostly runs between 160 to 300 miles between rail hubs and receivers like Walmart, Target, and Amazon, still had to contend with the new COVID normals.
"I made my truck totally self-sufficient. I did everything in my truck," she said. "I fixed all my food in the truck because the one thing we did find problems with was finding places to eat and places to take showers. There were several truck stops that wouldn't allow you to shower anymore."
Overall, she's proud to have been so productive during the pandemic and thanks her company for the stability and resources they provide.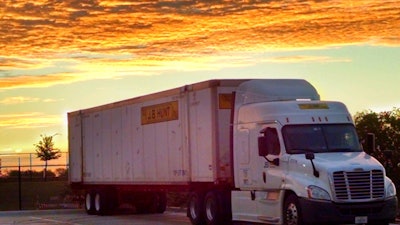 "I chose this because of our benefits," she said, after running for smaller operations for years. "I can get home, we're home about two days a week. I'm not stuck out on the road for weeks out at a time. While I loved running for owner-ops, they just didn't have any retirement they could offer."
Furthermore, she likes that the company runs all newer equipment. "There's absolutely no excuse for your truck breaking down and putting you in an unsafe situation," she said.
[Related: Scenes from the first-annual SHE Trucking Expo -- big-tent appreciation, inclusion in Chattanooga]
"Our maintenance is fantastic. If something goes wrong with a piece of equipment you write it up and they fix it," she said. "We have enough equipment that you don't have to sit and wait for something to get fixed to get your next load, that's a big plus."
Also, a wealth of trailers and chassis means "a lot of drop and hook" for her runs. J.B. Hunt pays her per-mile with lots of incentives for different things, like local runs. She works alongside some drivers who are on percentage pay, and some independent contractor owner-operators as well.
When Overdrive spoke to Shufeldt, she was driving to recover a truck from another driver who couldn't complete the run due to a health issue. Shufeldt said she felt comforted knowing the company handled these incidents with compassion and made the logistics easy for the driver in need. She wished the driver well and brought the truck back to the hub for another load as we spoke.
As a woman in trucking, Shufeldt spoke about the unwritten rules of conduct on the road, but warned against a culture she finds that still poses a threat to women.
"Be very careful, be assertive, and check your equip constantly," she said as advice to other women getting started in the industry.
The anchor story in this three-part series looking at the intermodal freight niche: Intermodal haulers cash in on rates rise while fighting off a freight 'system collapse'
Associated podcast: Supply-chain crunch at the ports: Perspective from out East