Founded several years ago by Sharae Moore, then a driver somewhat new to her trucking career, the SHE Trucking Facebook group and mentoring/information-sharing organization has certainly made a name for itself among women behind the wheel – many owner-operators among them – among others. But Moore is certainly not one to rest on laurels.
Friday this past week, Moore and partners' first in-person convention got off the ground in Chattanooga, drawing hundreds to that city's convention center for a wide array of talks and workshops, an impressively diverse exhibit floor, plenty of fellowship and networking, and much more.
Officially, too, Friday was proclaimed SHE Trucking Day by the city's mayor's office, and Tennessee State Rep Yusuf Hakeem was on-hand early in the day with a commendation for Moore in the form of a proclamation signed by the speaker of the Tennessee House.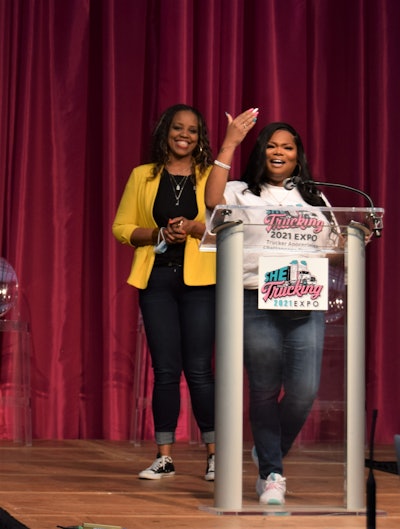 Hakeem presented Moore and the event as an example of determination, of not giving in to voices of those who "will tell you what you can't do and you won't do. ... Thank you for being yourself," he told her from the event stage, "and being that example, that role model of what can be, if you're willing to work for it."
As at any truck show I go to, the full results you'll see here over time, as an array of potential stories present themselves.
And that's particularly the case with this one, as the program of speakers on Friday covered the gamut from personal safety on the road to high-tech freight procurement, strategies in building the small fleet back office and contract bidding with larger shippers. Stay tuned for more from many of these individual businesses.