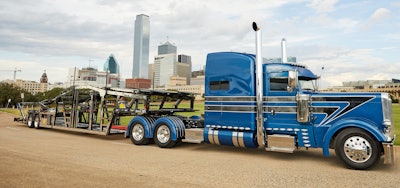 This profile is part of a multi-part series in which Overdrive is publishing stories on the five Pride & Polish Best of Show winners from the 2019 Great American Trucking Show in August.
Eric Turner Sr. has entered his 2015 Peterbilt 389 and 2018 Wally Mo eight-car hauler in most major truck shows across the country since he bought the truck new, winning some along the way.
Turner and his wife, Stacy, kept judges' sheets and later tried to address everything that deducted points. That intense focus led to their rig, "Showtime," winning not only a Best of Show award but also being selected as Truckers' Choice by their peers and show attendees.
"For us to get picked by them, let alone get picked by people walking through the show and putting in their comments, that knocked me off my feet more than anything," says Turner, who averages around 100,000 miles per year with the truck, hauling cars mostly on the East Coast. He's based in the Atlanta suburb of Ellenwood.
Stacy gets the credit for the truck's nickname, which is her husband's CB handle. Eric said Stacy jokes that he's a "pretty boy" and it's a "pretty boy" truck, so it should go by "Showtime."
Turner says the initial plan when he bought the truck was just to buy a nice truck and fixing it up a little to represent the family business, Turner Transport. After taking it to its first truck show at the Fitzgerald Pride & Polish in July 2016 and surprisingly to the Turners winning Best of Show, they decided to keep working on the rig every year to make it into the truck it is today.
For Pride & Polish this year, Turner says he and his team focused on making sure there wasn't any dirt anywhere on the truck during the show.
"Our goal this year for Dallas was to have the cleanest truck anybody's had before," Turner says. "One of the judges came up to me after the show and asked me where the dirt is. He told me they sent more judges after the first ones to find dirt. They couldn't find any. It took all the years of going to shows and looking at score cards to see what they told us in Louisville, Dallas, Oklahoma, Virginia. We wanted to hit everything that different judges have told us."
One of the Turner's favorite additions to the truck is the carbon fiber design in the black stripes. Turner says the idea came about after losing at the Great American Trucking Show in 2016. Three months after that show, Turner's father passed away, then six months after that, his mother passed. He says his mother loved the look of carbon fiber and was always a big fan of it on vehicles.
"In the winter months of 2017-2018, I told my painter I wanted to put carbon fiber on the truck to represent my mom," he says. "So he painted carbon fiber on the side instead of black stripes. It's all painted and not vinyl. We believe a custom paint job needs to be paint, not vinyl. This truck will never leave Turner Transport. It's the last truck my parents saw with their own eyes."
Turner says "Showtime" is likely retired from the truck show circuit after this show, and he is shifting his focus to his next build, which – without going into any details on what the truck will be – he hopes to finish by 2021.
For more photos from GATS Pride & Polish, fill out this short form for access to more than 250 shots of the Best of Show champions, winners from each category, all 52 entrants and the rat rods.