This profile is part of a multi-part series in which Overdrive is publishing stories on the five Pride & Polish Best of Show winners from the 2019 Great American Trucking Show in August.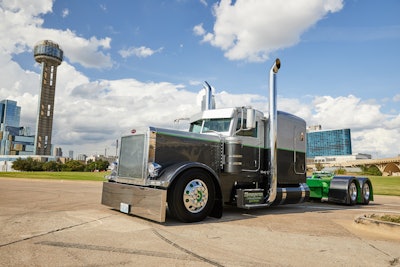 Ray and Cory Thompson, a father-son duo out of Campbell, Missouri, bought this 2000 Peterbilt 379 five years ago from a car hauler with the intention of turning it into a show truck.
They stripped the truck to the frame, took the car-hauling accessories off and stretched its 280-inch wheelbase to 316 inches. The truck sat at their shop for two years until they decided on a comprehensive rebuild, executed by Indiana's Davis Brothers Designs.
It included installing late-model doors and mirrors and replacing all wearable parts. The sleeper now features a couch and large sound system instead of a bunk, since the truck is used only for show. The truck originally was dark gray, but the Thompsons painted the frame green and added silver for contrast.
Cory says the build process was nerve-wracking with how long each part of the build took and the different options available to put on the truck.
"It was a long, drawn-out process," he says. "Every time you turned around, it needed something else. There are so many options to find what looks best and fits the theme of the truck. We tried to stay within somewhat of a budget. We didn't want to go crazy, but we wanted something different."
The "Foolish Habit" nickname came during the rebuild when the Thompsons realized many people didn't quite grasp why they were giving so much to the project.
"It really has turned into a foolish habit of spending money on something we're not going to use and just look at," Cory says. "But we enjoy every bit of it."
Below are more photos of the truck from this year's GATS and a video of Ray Thompson talking about the truck at the 2018 GATS Pride & Polish. For more photos from GATS Pride & Polish, fill out this short form for access to more than 250 shots of the Best of Show champions, winners from each category, all 52 entrants and the rat rods.