Once at a shippers' dock in Texas, owner-operator Sharron Lambert showed at the facility, but with no bays open and no parking available, she had to park across the street and walk over to the booth to begin the process of picking up that day's load.
As she told the story, "They said, 'Are you with him?'," pointing to her truck. "I said, 'Are you talking to me?' The man said, 'Yeah, are you with him?' As if there's some imaginary man that didn't get out of the truck. I said, 'What are you talking about? I drive this truck.'"
She laughs off these types of encounters, which aren't infrequent. Another common one: When getting instructions from a broker or a shipper/receiver via phone, she'll hear a phrase like "when he gets here…," a reference to some supposed male driver actually working the load. "I usually say, 'He is me. I'm the driver," Lambert said. Being an independent owner-operator, "I'm my own dispatcher, too."
Lambert's foray into trucking began six years ago — a second career after spending 20 years as a computer programmer. She's part of a slow but steady demographic shift in trucking as it grows more diverse in gender, and race and ethnicity. As has long been the case, the business offers unique opportunities at entrepreneurship and independence hard to find in other careers. Increasingly, that's opportunity for personal and professional success being seized not just by women, but by Black women like Lambert.
In her six years in the industry, she said she's noticed a wave of women entering as drivers. "Sometimes I bump a dock, and I see a woman on both sides of me," she said. "When I started, seeing a woman truck driver in a typical day used to be odd. I used to feel like I was the only one. Now it's so different. I know so many female drivers now, and I know they're out there."
Lambert, with her 2020 Freightliner Cascadia, owns and operates the one-truck Independent Motor Carriers, based in Carrollton, Georgia. She runs daily between Atlanta and Birmingham, working some shipper-direct accounts and with a handful of brokers. She also regularly uses Uber Freight to book loads.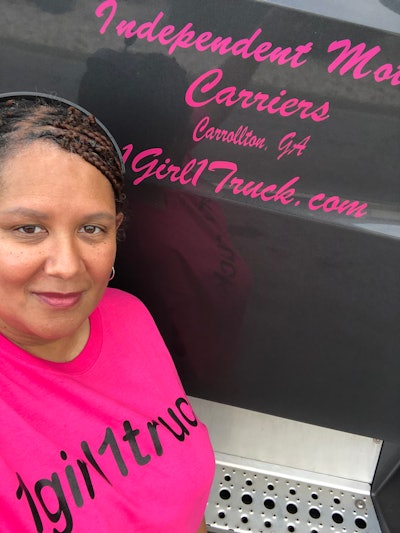 Owner-operator Sharae Moore, who's leased to Riverside Transport, likewise is part of the new generation of truckers. Like Lambert, she's noticed the number of women drawn to trucking in recent years. She's been actively working to bring women in and help them get a start. "For me, I didn't know any women that owned a truck or drove a truck when I first started," she said.
Now, she runs the SHE Trucking Facebook group, which has more than 8,500 members. Likewise, she's the founder of the SHE Trucking line of apparel, which she mostly sells online.
"My mission is to empower women in trucking through community," Moore says. "We've mentored [members] from finding a school, getting a CDL, pairing them with a mentor, riding with a trainer and getting their experience. Two years later, I've got ladies that are owner-operators. They own their own trucks. And we did that through mentorship."
Many in the SHE Trucking group are drivers already. Some are owner-operators, and many others are simply interested in finding out how to break into trucking.
The SHE Trucking shirts and jackets sold online were the launching point for the group itself. "There are no T-shirts for women in the truck stops," she said. "There are shirts for men. There are 'Trucker Wives' T-shirts. But there's not one for lady drivers. So I started printing shirts myself and just started giving them away to other women I saw on the road."
Moore herself got into trucking five years ago when a friend told her she could make $40,000 as an entry-level driver. That swayed her from her previous career as a Certified Nursing Assistant, where she was making just $10 an hour.
In those few years, she's already had to fight through tougher times. After receiving CDL training and working at Swift for a year, she started working for a smaller carrier. One day in March 2019, she was left stranded by the fleet in Denver after making a delivery. The truck was towed, and she was only allowed to take her purse, her phone and a bag of clothes she had in the cab.
The Real Women in Trucking organization, of which she's a member, gave her a boost. They called her an Uber, got her to a hotel for the night and booked Moore an air ticket home.
Just three months later, she was in a bad crash in her personal vehicle. The two events left her sidelined for nearly a year. Her physical recovery took months, and at one point she had just 47 cents in her checking account.
All of it "pushed me into ownership," she said. "That was the kick I needed. I would have been a company driver the rest of my life."
She was able to scrape together a down payment for a truck by running a stationary business making products like business cards and flyers while she was taking time off from driving after her crash. She bought a used Freightliner in February, and she's been leased to Riverside since.
Trucking provided a new path forward for Moore, but she says the industry still has strides to make on racial and gender equality. "What the future looks like is diversity. It looks like inclusion," she said. "It means being judged by the work that you do."
That work starts with broader education for new drivers beyond just training for a CDL, Moore said. "The only thing we're taught in this industry is how to drive a truck. We're not taught how to own a company," she said. That type of education is key to expanding opportunities for women and minorities among management and ownership. "How many Black-owned trucking companies do you know of? I'm not talking one, two, three trucks. I don't know of many. We need more female-owned businesses and more Black-owned businesses. Those are the solutions — ownership and education."
Lambert, likewise, has noticed a shift, even if just in attitude, as nationwide protests over police brutality have spurred a national dialogue this year in the U.S. around race and inequality. "It's making some people more sensitive to things that maybe they weren't as sensitive to before," she said. "I'm really hoping we can come together and understand each other more. There's people saying, 'This wasn't me. I didn't do it.' But people on the other side are still suffering, still being overlooked, still being marginalized.
"I don't like what's going on with the looting and the violence and the rioting. I don't think it's a good process but it's a necessary process. I think right now a lot of the anger and exclusion is coming out" in the protests, Lambert said. "Hopefully, all of this is going to end up with a lot more people — not everybody — but more people being aware and approaching things a bit differently."