The hottest story in business news right now is the global supply chain crisis, and amid all the finger-pointing and armchair quarterbacking going on in mainstream media, politics, and the tech world, a clearer picture emerges of just who or what might be to blame for ballooning waits and congestion issues.
Unfortunately, laying that blame requires each American to take some responsibility for the cheap prices and next-day delivery we've all become so reliant on. The blames lies with the corporate world broadly, according to Ryan Petersen, CEO of Flexport, a tech platform for global logistics.
'Just-in-time' overstays its welcome
Petersen, in a series of tweets closely watched and reported on by the likes of Bloomberg and tech leaders, spent the last few weeks touring the ports and surveying workers to pinpoint just where the breakdown happens.
In Petersen's telling, a corporate obsession with return on equity killed the supply chain. The obsession led to "just-in-time" inventory practices all around the business world, meant to cut down on overhead by leaning hard on a global supply chain strong business relationships made quick and efficient.
Ideally, in times of supply chain strain, large companies would rely on their stockpiles of inventory to meet customer demand and stave off shortages. Shortages, if and when they arrive, in turn boost demand even further. Given that every large ecommerce operation, like those of Amazon and Walmart, do their best to keep minimal inventory on hand, that shock absorber is gone.
"The global logistics companies have no excess capacity, there are no reserves of chassis, no extra shipping containers, no extra yard space, no extra warehouse capacity," Petersen wrote. "The brands have no extra inventory. Manufacturers have no extra components or raw materials on hand. Almost nobody has any employee loyalty because they haven't been willing to take care of their people through thick and thin of business, and thus they can't staff up quickly to meet surging demand. All businesses now complain about employee loyalty, but have we earned it?"
[Related: Where are the empty shelves? Keep those rate increases coming, shippers]
President Joe Biden implored ports and shippers to switch to 24/7 operations to alleviate current strains, yet for many truckers it felt like little more than a Band Aid on a festering, deep wound.
Biden went on to admit to his own past promotion of just-in-time inventories contributed to a lack of resilience in supply networks. "Prior to the crisis, we cheered the focus on lean, efficient supply chains, leaving no buffer or margin for error when it comes to certain parts arriving just in time," said Biden. "Our administration, Barack and ours, that's when it was — 'just in time' was the focus."
Biden then called for investments in ports and infrastructure to build "greater resilience" and rethink this strategy to account for extreme weather, climate change and even cyber attacks — all of which routinely hit various aspects of the trucking business.
As illustrated above, polling from Overdrive showed only weak support for the notion that keeping ports open 24/7 could increase hauling opportunities, with 17% of respondents saying the hours would make a difference, 16% saying maybe, and 66% saying they saw no difference or the question didn't apply to them. Combine that with Petersen's accounts of ports not getting any appointments for late hours and industry-wide skepticism of the move, Biden's big push to ease the supply chain logjam looks dead in the water.
But the stock market continues to hit all-time highs despite 10 million job openings and an ongoing pandemic. Petersen chalked that up to companies "juicing their stock prices" by showing off lean balance sheets rather than preparing for actual emergencies, like the COVID-19 pandemic's scrambling of thousands of business relationships that make up supply chains.
For owner-operators, this means there's a lot of empty shelves that need filling, and as rates continue to rise out of the ports and areas around them, there are serious revenue opportunities worth considering.
A potential 50% revenue boost for owner-ops at the ports
In a recent edition of Overdrive Radio, Editor Todd Dills spoke to small fleet owner George Berry, who works out of the ports in Virginia, to get the owner-operator's side of the port story. The conversation bears listening to in its entirety, but key takeaways include increased opportunity for intermodal operators to earn, how the driver situation is now "as bad as it's ever been," and why California might have just regulated itself into a mess.
[Related: Supply chain crunch at the ports: Perspective from out East on a multifaceted issue from small fleet owner George Berry]
Small fleet owner-operator Berry, also the founder of For Truckers, By Truckers, a group that advocates for drivers at the ports, said he's seen the supply chain issues not only as an integral part of the chain, but as a consumer. Barry reported parts shops that can't even sell a gallon bucket of oil, as the plastic containers they're sold in are sitting in shipping containers at the ports themselves. Barry's experience with parts shortages tracks with that of Lance Buttermore, a Landstar-eased owner-op out of Phoenix who runs L.A./Long Beach and talked to Overdrive about intermodal hauling.
Buttermore reported that his trucking buddies had started hoarding supplies and buying up six packs of oil filters and other sundry goods before they ran out.
Berry put the situation this way: "These are the beginning stages of what's going to be a huge disruption in commerce and supply chains, and I don't think that people who are not in our industry or are privy to what's happening behind the scenes understand the gravity of what's happening in our country and in the world."
He went on to describe in detail the intricacies of what makes port dynamics just so unwieldy, but also the opportunity to be had.
His is a single case, of course, but here's how he put it: "It's a very lucrative career, especially now,. You see bonuses out here all the time, $1,000 or $5,000 sign-on bonuses. There's really a big push to get port drivers."
[Related: 'Driver shortage' claims miss self-employment explosion]
Overdrive sister publication CCJ recently reported that at the Port of Miami, some carriers are paying up to $1,000 daily bonuses to drivers experiencing long waits with congestion.
Just how lucrative the market has grown surprised even Berry, who said he's never seen a better time for this line of work.
"Typically owner operators [working the Port of Virginia] gross about $100,000 a year, and that's without fuel and any mechanical issues, but I think that earning potential has raised by at least $50,000 right now," he said. "This is the time to get into trucking or do trucking. Get in with a company whose rates are going up with the market. Right now there's an influx of potential revenue, and I don't think that potential drivers want to sleep on this opportunity."
Berry noted compensation for owner-operators hauling out of the Port of Virginia is mostly on a miles basis, but some companies are paying percentage, or hourly for company drivers, which can help with long dwell times. He stressed fundamental concerns for owner-ops when it comes to transparency from carriers, as figures like "72% of linehaul" can mean different things to different companies.
The truth about the supply chain strain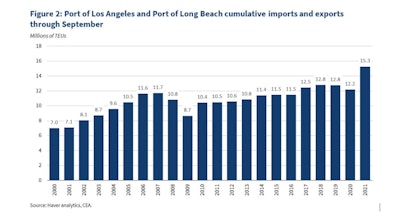 A recent Washington Examiner article cited "lazy" crane operators making $250,000 a year as the cause of backups at the ports, but in reporting this story, Overdrive learned that productivity at the ports has actually increased so far this year.
While it would be convenient to blame a single actor or profession for the problems at the ports, port container volumes through Los Angeles / Long Beach are actually up through September, compared to any other year, which suggests lazy crane operators aren't to blame. Instead, demand has simply boomed to unseen levels, and even increased production can't match America's new shopping habits.
Since the dawn of the pandemic, drivers, ports, and rail yards have had to learn to do more with less. But until that ethos catches up with the rest of the general public, the supply chain crisis has no end in sight.
[Related: Turning intermodal challenges into opportunity as rates rise]