The Federal Motor Carrier Safety Administration has denied owner-operators Leland (Lee) and Lisa Schmitt's request for an individual exemption from five provisions of the hours-of-service regulations.
The denial will be published in the Federal Register Wednesday, Nov. 9. The Schmitts told Overdrive Tuesday they would be addressing FMCSA's reasons for denying the request and resubmitting their request by the end of the day Tuesday. "We're not going away," Lisa said.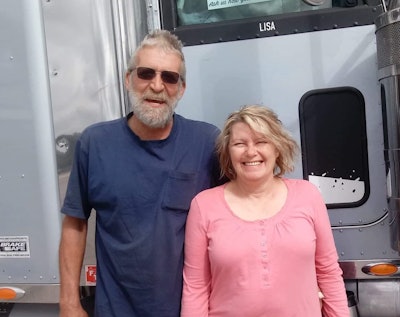 The Schmitts petitioned FMCSA for an exemption for Lee from the 10 consecutive hour off-duty time requirement; the 14-hour on-duty window; the 30-minute break requirement; and the cumulative 60 hours in 7 days and the 70 hours in 8 days limits. Notably, they did not request an exemption from the 11-hour daily maximum drive time limit.
Lee cited 30 years of safe driving experience as proof of his ability to safely operate under the exemption. Schmitt also noted that the mandatory 10-hour break works against his natural sleep patterns.
[Related: While many support owner-op's HOS exemption request, opponents mount challenge]
In denying the petition, FMCSA said Schmitt "failed to establish that he would maintain a level of safety equivalent to, or greater than, the level achieved without the exemption."
The Schmitts argued that the level of safety FMCSA refers to is a blurred line.
"We proved that we can be safer than the current standards," Lisa said. "But before that, what are the current standards that we have to meet? FMCSA doesn't know what the current levels of safety are."
Lee added that under the current rules, a driver can drive 13 hours in a 24-hour period, but in his exemption, he was only asking to drive 11 hours per 24-hour period.
"That's safer than what they legally allow," he said, adding that he would be "staying on the ELD. When they say I have no way to monitor" his safety, "that's a lie because I'm staying on the ELD."
The agency also added that it agreed with certain commenters who were concerned that "if it exempts one individual from the HOS regulations, it could open the door for a huge number of similar exemption requests." The Schmitts believe this is the reason their request was denied. "I think every driver who wants to file an exemption should file," Lee said.
FMCSA's decision cited a comment from the Advocates for Highway and Auto Safety that read: "Exempting the petitioner (or any CMV operator) from these HOS provisions and allowing him to drive as long, frequently and as much as he desires would be utterly reckless and presents a needless threat to public safety regardless of his past driving record. Granting the application would also disregard well established science on driver fatigue."
"They should have never taken that statement and even brought that into account for their decision," Lee said, because "based on what they said, they didn't read my exemption" request, which clearly did not ask for exemption from the daily limit of 11 hours driving.
FMCSA received 651 total comments on Schmitt's request – 647 of which were from individual commenters. The agency said 350 comments were in support of the request with 68 opposed, and the remaining 229 comments offered no position.
[Related: What if you didn't need 10 after 11 or 14 in the hours of service? This owner aims to find out]