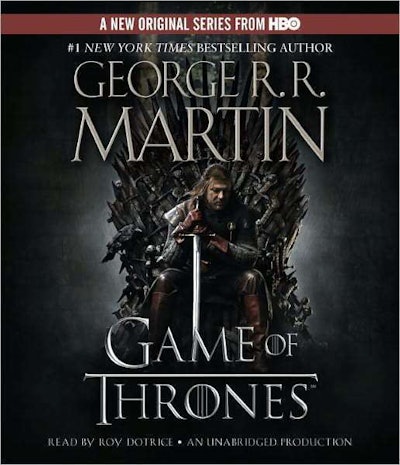 "A Song of Ice and Fire" series. Random House Audio. Read by Roy Dotrice.
With the recent end of season two of HBO's hit series "Game of Thrones," millions of fans enthralled by the hit fantasy show have been flocking to the source material. And if you're interested in checking out George R.R. Martin's novels, the five (of a planned seven) released so far will give you 203 hours of listening time on the road.
The "A Song of Ice and Fire" novels, beginning with "A Game of Thrones," are dense fantasy epics, packed with intrigue, violence, war and sex. Following an increasingly large group of characters as war breaks out in the mythical land of Westeros – and beyond – it's easy to get swept up in the tale.
Actor Roy Dotrice reads all five audiobooks, keeping a complicated tale clear by performing different voices for each character. This becomes helpful in the denser later books, which you'll get to more quickly than you'd expect – because once you start listening to these books, it's hard to stop.
You can find all five of the "A Song of Ice and Fire" novels – "A Game of Thrones," "A Clash of Kings," "A Storm of Swords," "A Feast for Crows" and "A Dance with Dragons" – at any major retailer that sells audiobooks, including major electronic retailers like iTunes and Audible.