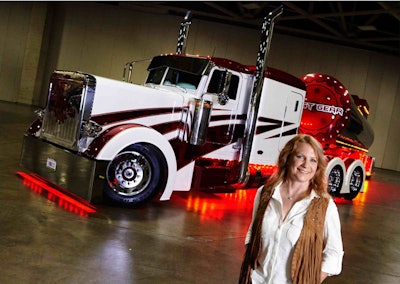 Cindi Holland – After the stylist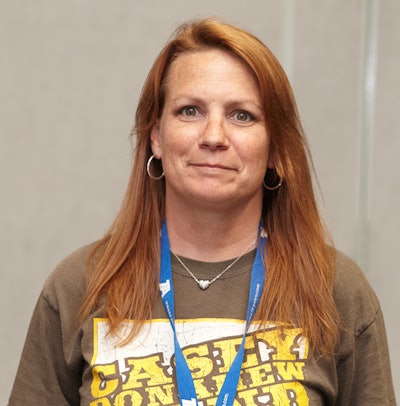 Before the stylist
Part III Behind the scenes at GATS photo shoot
Cindi Holland of Cleburne, Texas, and Teresa Danielson of Sandy Bay First Nation in Manitoba, Canada, felt like old friends by the time we met in the hallway of The Great American Trucking Show in Dallas. We had been texting, emailing and calling for weeks, and I was excited to meet them in real life.
I met Cindi first and was struck by how petite she was. In fact, I couldn't imagine how the 4-foot-10-inch, 103-pound trucker could operate a big rig. I soon found out that she is as tough as she is pretty and more than holds her own on the road. Cindi and her husband of 18 years, Jeff Holland, own a 2007 Freightliner XL and are leased to Mercer Transportation. She's been a trucker on and off since 1996, and this is their first year as owner-operators.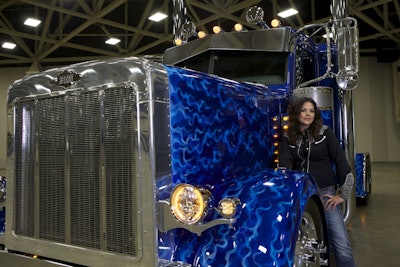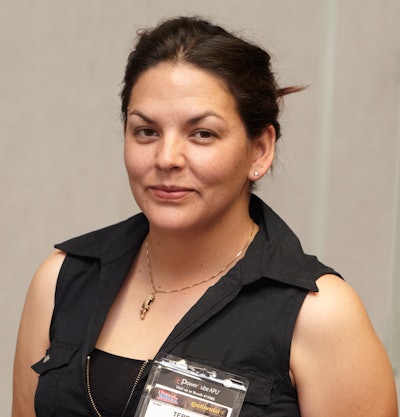 Before the stylist
Next, I met up with Teresa, the dark-haired beauty from Canada, and we arranged to all meet on Saturday afternoon, right before the show officially closed.
Since neither woman is a professional model, we thought it would be fun to bring a hair and make-up stylist to the show and treat them to makeovers. We moved the guys out the way and set up in the corner of a conference room at GATS. Stylist Lana Adams came highly recommended by the Dallas-based Kim Dawson modeling agency I used for the other shoots. She was fun and interested in the trucking life. Both Cindi and Teresa traded war stories of being on the road while Lana worked her magic. Teresa hauls water to the Jackpine Mines in the Oil Sands, a tough, male-oriented field that leaves little room for dressing up. "I like how this shoot can show the other side of women truckers," she says after Lana finished.
Cindi agreed and says, "I would never wear this much makeup in real life." Both of them thought the hair and makeup was way more dramatic than they would ever wear, but for the purposes of the photo shoot it was perfect.
The show closed at 5 p.m. and we hustled over to the Pride & Polish area. It's always amazing to see how efficiently they move out the show trucks. Finally, it was time to set up the first shot with Cindi. When she first saw "Low Life," John O'Keefe's 2007 Peterbilt 379 Legacy Class Edition lit with more than 400 lights, she was stunned by its beauty. The truck was built for Clean Slate Environmental, owned by Todd and Beth Roccapriore in Hebron, Conn. The orange and black color scheme complemented Cindi's leather vest, cream blouse and work boots. "If female truck drivers are anything like me, they love to look at beautiful trucks. You don't need a female in a bikini to show off a great looking truck. What I was wearing looked really good next to the national championship winning truck," Cindi says.
Photographer Paul Hartley's trucking experience came in handy as we worked to get the trucks positioned and the lights set up for the shoot. There was a lot of waiting around, something I tried to prepare the models for ahead of time. Setting up the lights, angles and arranging each shot requires patience and skill and we were lucky Paul has plenty of both. He knows his way around both sides of the camera and things began to move along. He took dozens of shots of each pose and we could view them instantly on his laptop. It appeared there would be plenty of great shots to pick from and everyone had a chance to look at some samples.
Teresa liked her makeover and the outfit I found in an authentic Western-wear clothing store in Tuscaloosa, Ala. She wore her own jeans and work boots, and her high cheekbones and great hair and skin looked fabulous! The 36 year-old single mother of three wasn't sure about applying in the beginning. "My fellow coworkers at Birch Mountain Enterprises, in northern Alberta, Canada, talked me into it," she says. When she heard that she was chosen for the photo shoot, she was really excited. She appreciates her employers, Chris and Lee Wilson and Ivan Boucher along with owner-operator Wayne Kitchur, for sponsoring her trip to Dallas and she's grateful for their moral and financial support.
When we finished with Cindi and "Low Life," Jerad Wittwer pulled up his 2006 Peterbilt 379, "Show Me the Money." The owner of Performance Diesel Inc. in St. George, Utah, says he was thrilled to have his truck in a shoot with Teresa and its blue base with white flames color scheme offered a dramatic focal point for the photos.
It was close to 9 p.m. when we wrapped up, and we were tired but thrilled with the photos. Teresa's spread will appear in the November issue of Overdrive and Cindi's will be scheduled next spring. So far, the response has been very positive, and we plan to cast more women truckers in upcoming photo shoots. If you are a trucker and would like to be considered for a future shoot, send me your information and a photo.
(Email: cmagner@randallreilly.com)