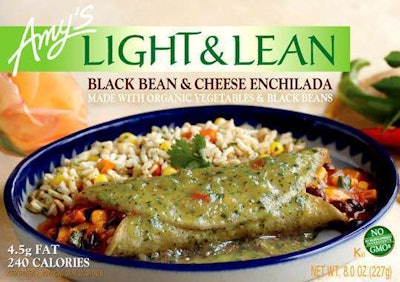 You don't always have to order fast food when you run out of time to cook a meal from scratch. Frozen meals are still an excellent way to get the nutrients your body needs. And because a lot of microwave meals have a reputation for tasting like plastic and freezer burn,Overdrive has picked out the ones that actually taste homemade, so you can keep them in your cab cooler or miniature fridge.
Healthy Choice Roasted Red Pepper Marinara
This frozen meal is made with fire-roasted red peppers, roasted garlic, and tangy marinara sauce complement whole-grain cavatelli pasta. It's 100% natural and vegetarian friendly.
Calories: 270
Fat: 6 g
Carbohydrates: 43 g
Sodium: 560 mg
Protein: 9 g
Kashi Lemongrass Coconut Chicken
This entrée comes with chicken with broccoli florets, carrots, and sugar snap peas served over Kashi Seven Whole Grains and Sesame with red quinoa pilaf. It's then topped with a lemongrass coconut sauce and coconut flakes. Store it in your cab cooler and pop it in the microwave when you're ready to eat.
Calories: 300
Fat: 8 g
Carbohydrates: 38 g
Sodium: 680 mg
Protein: 18 g
Amy's Kitchen Light and Lean Bean & Cheese Enchilada
This low-fat and certified kosher meal is made with organic black beans, tofu, brown rice, vegetables and cheese in an organic corn tortilla with a blend of tomatillo and ranchero sauces. Organic brown rice with carrots and sweet corn come on the side.
Calories: 240
Fat: 4.5 g
Carbohydrates: 44 g
Sodium: 480 mg
Protein: 8 g
Based on a 2,000 calorie diet, the recommended daily nutritional intakes are: Fat – 65 g; Saturated Fat – 20 g; Cholesterol – 300 mg; Sodium – 2400 mg; Potassium – 3500 mg; Carbohydrates – 300 g; Fiber – 25 g; Protein – 50 g.
Consult a nutritionist or doctor for more information on your personal recommended daily nutritional intake.