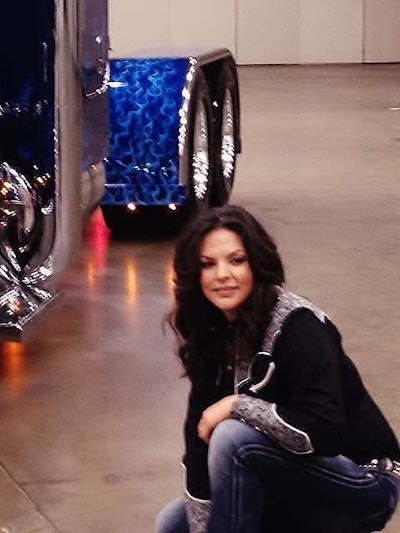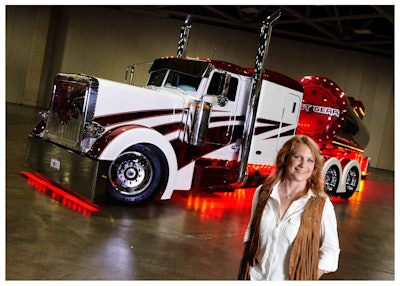 With three photo shoots under our belt, we took the advice of the Facebook commenter and put out the word we were looking for a few "real" trucker women to photograph in front of trucks from the Pride & Polish show in Dallas at The Great American Trucking Show. The two we selected, Cindi Holland (pictured, right) of Cleburne, Texas, and Teresa Danielson (pictured, above) of Sandy Bay First Nation in Manitoba, Canada, agreed to come to Dallas for the show and were super excited to be selected.
They wrote beautiful emails about how they love the trucking industry and how they are proud to be women in a tough, hard-working field. We spent the next few months discussing logistics for the show and figuring out the right outfits/sizes/hair and make-up details.
Paul Hartley, a former trucker, writer and extraordinary photographer, signed up to do the photography. He had plenty of experience shooting show trucks but had never had the opportunity to pose a beautiful model in front of one. We hired a hair and make-up artist and I went shopping for clothes. We didn't have the trucks picked out yet since we planned to use the winners from Pride & Polish.
Everything was falling into place and I couldn't wait to meet Teresa and Cindi at GATS.
Next: The show must go on! Behind the scenes at GATS