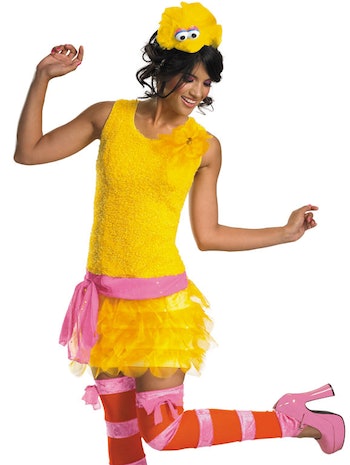 Really? A sexy Big Bird Halloween Costume? After Mitt Romney's debate comment, there was a surge in sales of sexy Big Bird costumes. While pop-culture inspired Halloween costumes are fine with me, I'm not a fan of making every profession a "sexy" one. Sexy DOT officer? Sexy Ice Road Trucker? (No Alex, No!)
When my girls were little, I killed it in costume making. It was my one time of year to really shine. No store bought Power Ranger costumes for my little ones. I sewed, super-glued, stapled, glittered and pinned my way through witches, ghosts, goblins and an array of Disney Princesses. Maybe that's why when a too old to trick-or-treat sexy Tinkerbell rings my bell, I reward her with a handful of candy corn. The good stash—Snickers and Almond Joy, I save for little pirates and Winnie the Poohs. (And freeze the leftovers for my own sweet self!)
Here are my predictions for 2012 Halloween Costumes:
1. Honey Boo Boo and June
2. Kardashians
3. Big Bird (sexy or bloody)
4. Batman/Superman
5. Lady Gaga
6. (Couples) Arnold Schwarzenegger mask with a French Maid costume
7. Walking Dead Zombies (am big fan of this show!)
8. Clint Eastwood and an empty chair
9. Romney and an empty podium
What's your best ever Halloween costume?