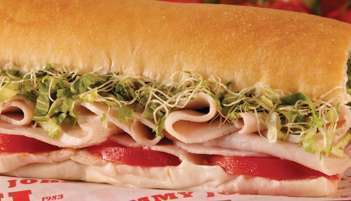 There are a lot of different sandwich shops and delis out there. The good thing about delis is that, more often than not, you get to tell the people behind the counter exactly how you want your sandwich made. If you're looking for a healthy sub, look into these turkey sub options. Each sub's nutritional facts are as ordered off the menu, unless otherwise stated.
Subway 6-inch Turkey Breast (on wheat w/tomato and lettuce)
Calories: 280
Fat: 3.5 g
Cholesterol: 20 mg
Sodium: 810 mg
Carbs: 44 g
Fiber: 5 g
Protein: 18 g
Quiznos Regular Create Your Own Turkey (on wheat w/tomato and lettuce)
Calories: 415
Fat: 6.5 g
Cholesterol: 50 mg
Sodium: 1300 mg
Carbs: 61 g
Fiber: 5 g
Protein: 29 g
Jimmy John's #4 Turkey Tom (no mayonnaise)
Calories: 322
Fat: 1 g
Cholesterol: 28 mg
Sodium: 920 mg
Carbs: 50 g
Fiber: 1 g
Protein: 24 g
Ordering this without mayonnaise eliminates 21 grams of fat and 193 calories. Also, while wheat bread will add more calories and sodium, it will add a lot more fiber. Or, if you're being really health conscious, Jimmy John's offers the "Un-wich" option of using a lettuce wrap, bringing the calories to 80.
Blimpie 6-inch Turkey "Made Lighter" (no cheese/sauce)
Calories: 320
Fat: 3.5 g
Cholesterol: 30 mg
Sodium: 1220 mg
Carbs: 49 g
Fiber: 3 g
Protein: 21 g
Wheat bread has more fiber, protein and fat, but less carbs and sodium.
Jersey Mike's #7 Regular Wheat Turkey Breast and Provolone
Calories: 540
Fat: 16 g
Cholesterol: 65 mg
Sodium: 1590 mg
Carbs: 64 g
Fiber: 5 g
Protein: 41 g
You can order Jersey Mike's subs "In a tub," as a salad, which will lower the calories, fat, sodium and carbs, but will also lower protein and fiber.
Be sure to keep in mind that some toppings, like mayonnaise and cheese, will raise your cholesterol, fat and calories, sometimes to a significant amount. If you keep up with your extra toppings, you should be fine staying healthy with these sandwiches.
Based on a 2,000 calorie diet, the recommended daily nutritional intakes are: Fat – 65 g; Saturated Fat – 20 g; Cholesterol – 300 mg; Sodium – 2400 mg; Potassium – 3500 mg; Carbohydrates – 300 g; Fiber – 25 g; Protein – 50 g.
Consult a nutritionist or doctor for more information on your personal recommended daily nutritional intake.