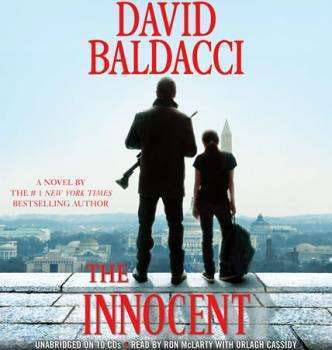 Read by Ron McLarty with Orlagh Cassidy
Hachette Audio
Available on Audible.com, AudiobooksOnline.com
Assassination always seems to be a tricky subject to write about. Most people are born with the instinct that both assassination and murder are wrong. JFK, Lincoln, John Lennon, Gandhi… these were all men that both common thought and history suggest had no real reason to be assassinated. But if you ask most Americans about the assassination of Osama bin Laden, then the solid moral ground becomes a little less solid. Many feel that bad or evil people should be assassinated. But who gets to make those decisions?
David Baldacci's novel "The Innocent" focuses on a hitman named Will Robie, who performs assassinations for the benefit of the United States. Generally, he's hired to assassinate known terrorists, such as a man forming a coup in Mexico or a Saudi Arabian prince funding terrorist groups but remaining just outside the punishment of the law. But one day, he's called to assassinate a young, single mother living in Washington, D.C., and Robie refuses to make the kill. His mysterious bosses are not an understanding bunch, however, and he's forced to run.
As he runs, he ends up crossing paths with a young woman going by the name of Julie who saw her parents murdered and is now on the run herself. Robie finds himself compelled to help the girl and discovers, as he learns more about her, that she may be unwillingly involved in an immense conspiracy and cover-up that stretches deep into his own world.
The 12-and-a-half-hour, 10-CD audiobook brings a couple of interesting additions to the story that are a bit uncommon in most audiobooks. First, the audiobook is read by Ron McLarty and Orlagh Cassidy, allowing for a clear differentiation between male and female characters. The audiobook also includes sound effects, particularly during the fights and shooting scenes. It brings an extra level of excitement and keeps your attention on the book even more thoroughly. If you enjoy action thrillers, "The Innocent" is about as close as you'll get to a movie without loading up a DVD.