Owner-operator Marc Springer, featured for the third season in the "Shipping Wars" reality TV series, told Overdrive editors during the Great American Trucking Show in August about a load that was featured in an episode during the third season of the Shipping Wars, which got under way Dec. 12.
At first glance, it sounds typical of many of the odd loads featured on the show (click through the still below for vid of a show from an earlier season): a carnival ride dismantled on two separate trailers "that had been sold by a gentleman who was with a fourth-generation carnival company in Sacramento, Calif.," says Springer. The load's two parts, bound for a consignee in Houston, were on trailers specifically built for the ride — "one for all the cars," Springer adds, and "one for all the structural components."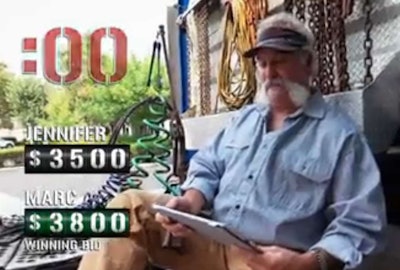 Problem is, Springer took one look at the trailers and knew "there was no way" they would roll and be legal, he says. After asking a few questions, he learned they'd been sitting for six years at the load location, which he describes as a sort of "carnival-ride graveyard out by this power plant in the middle of nowhere. Once you went there, you were retired."
Before he agreed to haul the load, he wanted the trailers certified by a Department of Transportation inspector, who came out and inspected the units, giving the shipper a list of things that needed to be done. "When I showed up, then, they'd done some work, but they still needed tires," which were dry-rotted to the point that you could flake rubber off of them with your finger, Springer says. "I rejected the load and walked away. [The shipper was] calling me a prima donna TV trucker — I just said, 'Either it's legal, safe and compliant or I'm not going to do it,'" putting the TV production company in a position where there was nothing else that could be said about it.
At once, however, Springer says he called the show's executive producer and said he'd just delivered the best episode the show could hope for. "I think it will demonstrate some things that need to be brought to the public's attention" about safe operation, says Springer. "And for the people who do know safety," or the nation's long-haul truck drivers, "it will show that we do think about this stuff, that we're not just a bunch of TV idiots who are trying to figure out how to load stuff."
Springer hopes the episode will change the shape of the show. "Now," he says, "no one's ever going to know whether [any one load] is even going to happen at all."
The show is running Wednesday nights on A&E in back-to-back 30-minute episodes.
Another episode Springer will be featured in this season includes a landmark haul he made in July 2012 of the Evel Knievel Mack haul rig Overdrive reported on extensively in February of this year, after it was hauled from Florida to North Carolina for initial stages of the restoration by small fleet owner Brad Wike. Springer moved the rig from Wike's facility in Lincolnton to Elizabeth Truck Center in New Jersey, where it continues to undergo restoration.