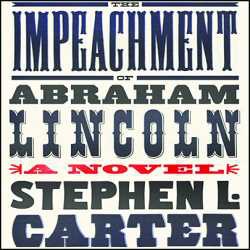 Read by Paul Boehmer
Random House Audio
Available on Audible.com, RandomHouseAudio.com
As the first president to ever be assassinated, a president that managed to end slavery and end the bloodiest war in American history, the American Civil War, Abraham Lincoln is a popular subject of both film and writing. Lincoln is generally considered to be one of the greatest presidents in American history… but would we say the same thing if he hadn't been killed?
"The Impeachment of Abraham Lincoln" is a historical fiction that takes place in a world where Lincoln survives his assassination attempt in 1865. Two years later, he faces impeachment of overstepping his constitutional authority. After all, Lincoln did many things to try to win the Civil War, including instituting martial law, suspending the writ of habeus corpus and imprisoning critics. Written by Professor of Law at Yale University Stephen L. Carter, the novel puts into question what could have happened if Lincoln found himself alive long enough to be challenged on his methods of winning the war.
The story is centered on a young black woman named Abigail Canner, who has received a degree from Oberlin College and wants to work at a law firm in Washington. It turns from "what if" historical fiction to courtroom drama and thriller when Lincoln's lead counsel is found murdered before the trial. Abigail finds herself fighting against conspiracy and political intrigue orchestrated by many in high positions in the government, some maybe even in Lincoln's own party.
Read by Paul Boehmer, the 18-CD, 23-hour audiobook brings up several interesting arguments about Lincoln's tenure as president, arguments that could possibly hold parallels to the present day. If you're a fan of history and "what if" situations, you may enjoy "The Impeachment of Abraham Lincoln."