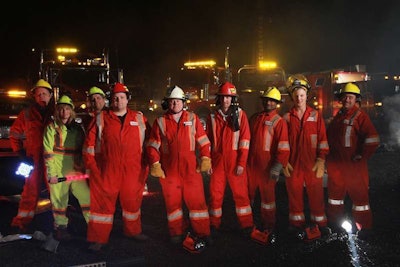 National Geographic's website describes the setting of its new documentary-style show as "the Bermuda Triangle of truck accidents," as the 10-part series "Highway Thru Hell" follows tow truck drivers in the Cascade Mountains as they try to clear the Coquihalla highway of truck wrecks.
The series premiered Jan. 23 on the National Geographic Channel and airs Wednesdays at 10 p.m. EST. It follows Jamie Davis Heavy Rescue as they work to keep the mountain highway open, "where high speeds, steep roads, huge drop offs and wicked weather produce hundreds of semi wrecks," says National Geographic Channel, adding that the highway, which runs along the U.S.-Canadian border, is a "trucker's worst nightmare" in bad weather.
NGC says the trucks driving along the highway carry millions of dollars in cargo, and the highway must remain clear — which is where Jamie Davis and his crew come in.
Davis' crew uses what the network says is highly sophisticated equipment, including large mobile cranes capable of lifting entire trucks and trailers or pulling tankers from drop-offs of hundreds of feet deep.
The show originally aired in Canada on the Discovery Channel, but made its U.S. debut during the Jan. 23 showing.
For more information on the show, see the show's page here, on National Geographic's website.