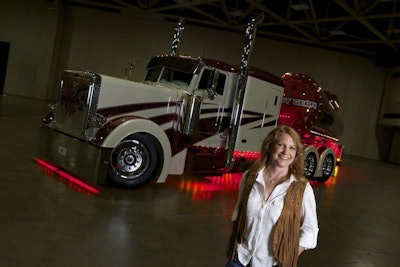 Trucking never looked so good!
Readers loved it when we brought back the retro Overdrive covers pairing beautiful women with gorgeous show trucks. What started off as a nod to the old days turned into a popular ongoing feature. While most commenters said they loved the photos, quite a few asked us to consider photographing real trucking women. And so we did. Cindi Holland and Teresa Danielson were selected to attend The Great American Trucking Show in Dallas, Texas, last August. We treated them to a makeover and then Paul Hartley, a professional photographer and former trucker photographed them in front of the winning custom rigs from the Pride & Polish show. Everyone had a blast, and we had so much great reader response we decided to continue the program.
That's why I'm asking you to consider submitting your photo and writing a short essay about why you should be chosen to appear in "Overdrive's Most Beautiful," campaign.
Remember, beauty is in the eye of the beholder — we're looking for women of all shapes/sizes and ages. Guys, if your wife/significant other has a CDL and is too shy to send in her pic, you do it! And write a note about why she should be picked. If you are selected, we will set up a professional photo shoot with a show truck.
Submissions will be posted online, and the ones who receive the most votes will be selected for a makeover and photo shoot at this year's Great American Trucking Show. The grand prizewinner will grace the cover of Overdrive magazine! Trucking never looked so good!
Send your photo and information using the form at https://www.overdriveonline.com/page/overdrives-most-beautiful-2017.
If you have any questions, email me at cmagner@randallreilly.com
Happy Valentine's Day,
Carolyn