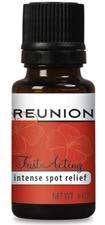 Reunion Fast Acting Intense Spot Relief is an all-natural, topical pain relief medication. It quickly relieves pain and stress caused by nerve or muscle discomfort and has a non-drowsy formula.
Reunion pain relief medication can be applied anywhere on the body. The medication is hypoallergenic and comes with a money back guarantee.
For more information, visit www.ReunionPN.com.