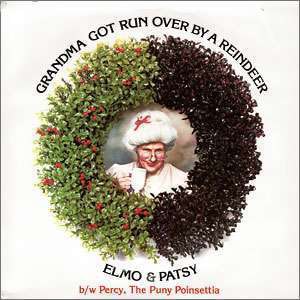 So Grandma had just a little too much eggnog and, on her way home from the family Christmas eve party, gets run over by Santa and his sleigh despite warnings from the family — no tragedy here, rather the novelty Christmas song at No. 3 in our holiday-tunes countdown, "Grandma Got Run Over by a Reindeer."
Originally recorded by the duo of Elmo and Patsy Trigg Shropshire in 1979, the Randy Brooks-written tune offers that peculiarly American brand of aw-shucks humor — timeless.
Enjoy the vid below.
[youtube MgIwLeASnkw nolink]
We'll wrap up No. 1 and 2 Monday and Tuesday next week…