Trucking news and briefs for Monday, March 15, 2021:
Annual Make-A-Wish convoy returns to Mother's Day
The annual Make-A-Wish Mother's Day Truck Convoy in Pennsylvania returns to its traditional weekend this year after being delayed to later in the year last year due to the COVID-19 pandemic.
This year's 100-truck convoy will include the top 30 drivers who raise the most money for the Philadelphia, Delaware and Susquehanna Valley Make-A-Wish chapter, key sponsors, and drivers who commit to fundraising at least $500.
The drivers will leave Manheim Pennsylvania Auto Auction at 1:30 p.m. on Sunday, May 9. Make-A-Wish will be broadcasting the convoy live on their Facebook page for fans to watch at home. Facebook Live will include drivers departing the parking lot, a view from inside a special Convoy driver's truck, and a location along the route. There will not be a convoy carnival, and the Manheim Pennsylvania Auto Auction will not be open to the public.
There are still spots available in the 100-truck convoy, and those who wish to participate can register here.
"Not even a yearlong (and counting) pandemic can stop this renowned event." said Dennis Heron, President and CEO of Make-A-Wish Philadelphia, Delaware & Susquehanna Valley. "It may be different again this year, forced to again abandon the carnival aspect of Convoy, but Convoy it will be – with many of the favorite activities such as the Mother's Day chicken dinner and the popular auction. Thank you to our dedicated Convoy committee, to our host Manheim PA Auto Auction, to our sponsors, and to our truck drivers, whose passion and determination to support our wish granting mission is unmatched and unrivaled. I hope that you can find a way to again support our 32nd Annual Mother's Day Convoy, our famous Lancaster County tradition."
The 2021 Truck Convoy is presented by RoadPro and is sponsored by the Convoy's official insurance agency, Good's Insurance, and other dedicated sponsors: CAG Truck Capital, Cumberland Truck Equipment, Brubacher Excavating, Safelite Auto, High Companies, and Insulation Companies of America.
St. Christopher Fund partners with makers of hands-free messaging app
The St. Christopher Truckers Relief Fund is partnering with text-to-voice technology firm ping to reduce distraction for truck drivers while on the road.
SCF says the partnership with ping will help raise funding and awareness for SCF, reduce the effects of distracted driving, and help keep truck drivers and their families connected while on the road.
According to SCF, 71% of commercial vehicle collisions are caused by distracted driving. ping is a patented voice-based app that reads incoming messages out loud automatically. As ping is eyes- and hands-free, listening to a message is no more distracting than listening to talk radio or a podcast, and it eliminates both the visual distraction of looking at a phone and the cognitive distraction of wondering whether the message is urgent.
Truck drivers and family members can try the ping app free for 14 days by downloading it from Google Play or the Apple App Store. After the trial, subscription options are $2, $4 or $7 per month.
Love's opens new Missouri location
A new Love's Travel Stops location opened last week in Kansas City, Missouri, off of Highway 210.
The new store features 115 truck parking spaces, a McDonald's restaurant, eight diesel bays, seven showers, a Speedco and more.
The location, at 3201 North Ameristar Dr in Kansas City, is the company's 18th location in Missouri.
Trucker gets Highway Angel wings for helping family in winter storm
Demetrius Fields, an Atlanta-based truck driver for Hirschbach Motor Lines, has been named a Highway Angel by the Truckload Carriers Association for stopping to help a family after their vehicle spun out in the middle of a busy highway during a winter storm.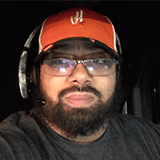 Fields was driving through Pennsylvania on Dec. 16 as Winter Storm Gail was closing in. He was heading for Indiana as Pennsylvania was preparing to close the interstates as conditions worsened.
As he drove along, he saw a vehicle up ahead spin out, hit the guardrail and end up in the middle of the roadway. Field suspected the car hit black ice.
Acting quickly, Fields pulled to the emergency lane and put on his flashers. A Swift truck driver did the same.
"We both jumped out," Fields said. "There was heavy traffic coming up behind, especially trucks. We wanted to get the vehicle off the roadway because of the poor visibility."
Fields and the Swift driver worked quickly to help the driver out of the vehicle and the three of them risked their safety to push the vehicle into the emergency lane.
"We then got the driver's wife and kids out and put the kids in my cab to keep them warm," Fields added. It took first responders more than 30 minutes to arrive.
"God put me and that Swift driver in the right place at the right time," Fields said. "If I was in that situation, I would hope someone would do the same for me."
The driver later contacted Hirschbach to say that the experience with Fields had given him a newfound respect for truck drivers.
"A lot of people don't acknowledge what we do," Fields said. "We're out here day in and day out, running up and down the highway trying to make sure people across the country are taken care of. It's a lot more than holding a steering wheel. It's 90% mental and 10% physical."
TCA presented him with a certificate, patch, lapel pin and truck decals. His employer also received a certificate acknowledging their driver as a Highway Angel.