Trucking news and briefs for Tuesday, Aug. 24, 2021:
ATA, Bendix name Virtual Truck Driving Championships Grand Champion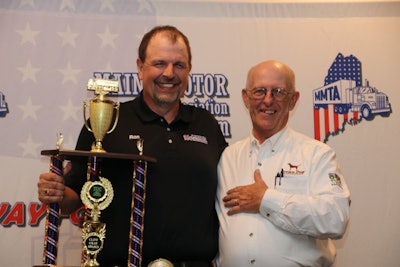 Ron Round, a Maine-based truck driver for Pottle's Transportation, was crowned the winner of the Bendix-sponsored American Trucking Associations 2021 National Battle of the States: Virtual Truck Driving Championships.
Round, who has 2.7 million accident-free driving miles in his career, has been a professional driver for 33 years. For the last 22 years, he has driven for Pottle's Transportation, where he also serves as a driver trainer.
Vice president of the Maine Professional Drivers Association, and the association's Driver of the Year in 2019, Round has also earned multiple awards in the Maine Professional Truck Driving Championships, including seven-time state champion, twice grand champion, and top rookie in 2001.
Additionally, Round was named the 2018 Maine Motor Transport Association's Driver of the Year, and in 2019 served as a driver in the Wreaths Across America convoy.
Due to the pandemic, this year's event took place entirely online, beginning July 31 with state-level trivia contests based on Facts for Drivers, federal and state laws, and state trucking history and culture. These contests sent state winners to the national competition on Aug. 14. To qualify for both the state and national competitions, drivers needed to remain accident-free – regardless of fault – and be continuously employed by the same motor carrier since Aug. 23, 2020.
In 2019 and earlier years, the NTDC featured professional truck drivers from across the United States competing in both written and behind-the-wheel challenges. The 2022 National Truck Driving Championships are expected to be in person in Indianapolis. The last ATA in-person competition was held in 2019, with Middletown, Ohio-based professional driver Scott Woodrome earning his second consecutive Grand Champion trophy.
Port fleet takes delivery of 10 Peterbilt EVs
Shippers Transport Express has taken delivery of 10 Peterbilt Model 579EV trucks, which the carrier will immediately use as part of its drayage operations at the Port of Oakland. Five additional Model 579EVs are scheduled to be put into service as part of their Port of Long Beach drayage operations in November.
The fully integrated, battery-electric 579EV in operation by Shippers Transport is optimized for drayage operations requiring two to three trips a day, of up to 50 miles in length before returning home at night to recharge. When used in conjunction with a recommended DC fast-charger, the state-of-the-art, high-energy-density battery packs recharge in three to four hours.
"With the recent completion of the charging infrastructure at the Port of Oakland, right now is the perfect time to put our 10 Peterbilt Model 579EVs into service and demonstrate the benefits zero-emission trucks will provide moving cargo around our California ports," said Guy Sanderson, general manager of Shippers Oakland.
Florida-based driver named Highway Angel
Jesse Davis, a truck driver based in Lakeland, Florida, has been named a Highway Angel by the Truckload Carriers Association for stopping to help an elderly driver after he crashed into a guardrail on the highway.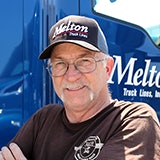 Davis was finishing up his day as he merged onto U.S. 169 from I-244 near Tulsa, Oklahoma, when he checked his mirrors and saw a car crash into the guardrail just behind him.
"He came around the curve a little too fast," Davis said. "He lost control and slammed into the guardrail head on."
Without hesitation, Davis pulled to the shoulder and ran back. The driver appeared to be in his 80s.
"He was dazed, but okay," Davis added. "He told me he knew he was going a little too fast for the curve and misjudged the ramp a bit."
Since the vehicle was blocking traffic from merging onto the highway, Davis directed the driver to move the vehicle off to the side as Davis held traffic back. Another vehicle stopped to offer help and told Davis they would call 911 while he tended to the driver.
"My focus was on him and getting him out of harm's way," Davis said.
He then waited with the driver until the Highway Patrol arrived. The driver told Davis he lived just north of Tulsa.
Davis said the skills he learned as a volunteer fireman, particularly emergency rescue techniques, have helped him a number of times.
For his willingness to assist, TCA has presented him with a certificate, patch, lapel pin and truck decals. His employer, Melton Truck Lines, has also received a certificate acknowledging their driver as a Highway Angel.