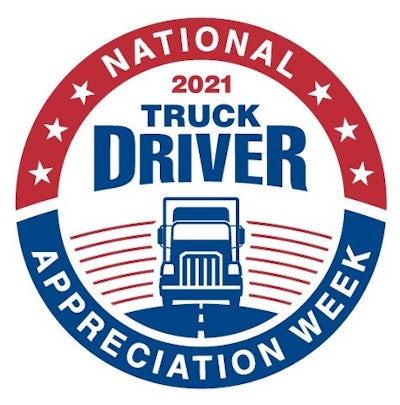 National Truck Driver Appreciation Week is officially scheduled for Sept. 12-18, and many companies are showing their appreciation by offering deals to drivers, not only during NTDAW itself, but throughout all of September.
Catch some of the deals and events ongoing below:
Pilot Company
To celebrate NTDAW, Pilot is encouraging everyone to join in bringing back the "Trucker Salute" arm pump and will be rewarding professional drivers all month with free drinks, bonus loyalty points and more perks.
Using Pilot's myRewards Plus app, truck drivers can redeem a free drink of choice from each day's brand family or beverage category on Mondays, Wednesdays and Fridays throughout the month; free showers all month with shower power after one 50+ gallon commercial diesel fill; and earn bonus points with several ways to boost loyalty earnings throughout September.
Additionally, to help bring back the beloved tradition, Pilot is asking the public to share a video of a "Trucker Salute" on social media, and Pilot will donate $5 to Trucking Moves America Forward for each post that tags @PilotFlyingJ and uses #ThankATrucker, up to $25,000. TMAF is an educational movement to recognize the importance of the trucking industry and professional drivers.
Finally, Pilot is also accepting nominations throughout September for its 2021 Road Warrior contest as part of its Driver Appreciation celebration. The annual Road Warrior contest will honor truck drivers who have gone above and beyond to keep America moving.
From Sept. 1 through Sept. 30, anyone can nominate a U.S.-based truck driver for the chance to be named a 2021 Road Warrior. The hardworking haulers will be awarded a grand prize of $10,000, $5,000 for second place and $2,500 for third place.
New to this year's contest, nominations will be accepted directly on the Pilot Flying J Facebook page to make the submission process easier. To enter, people can comment on the pinned Road Warrior post with a story recognizing a professional truck driver for going above and beyond. Readers can also submit nominations during the entry period on the Road Warrior website.
Road Warrior winners will be announced in mid-October and are selected based upon the story submission, including contributions to the trucking industry, safe driving history, miles driven and community involvement.
Love's Travel Stops
Love's is celebrating National Truck Driver Appreciation Week throughout all of September by giving away a record-breaking 14 million My Love Rewards points during the month, including hundreds of daily winners and a 1-million-point winner at the end of the month.
Drivers can also take advantage of deals on fresh food, snacks and drinks, free food with an oil change and special deals Sept. 12-18 for My Love Rewards members.
Each time drivers swipe their My Love Rewards card during the month of September, they'll be entered for a chance to win 1,000 or 2,000 My Love Rewards points daily and a chance to win 1 million My Love Rewards points at the end of the month. Daily winners will be notified by email.
Additional offers include:
Special deals for My Love Rewards members Sept. 12-18
Free Love's hat with the purchase of two pairs of gloves for $24.99
TA-Petro
TravelCenters of America is honoring the nation's professional drivers during NTDAW by hosting events at sites nationwide, offering driver-centric deals in the TruckSmart app and holding a #TADriverAppreciation social media campaign to surprise drivers with prizes.
"We want all professional drivers to know that we thank them for working so hard throughout the pandemic," said Jon Pertchik, Chief Executive Officer of TA. "While this week is to offer gratitude, we appreciate them all year long and are focused on enhancing their guest experience to show how much they are valued. As our company transformation continues, we are pleased that drivers will start seeing and feeling enhancements when visiting us; we are upgrading our physical sites nationwide, revamping our UltraONE loyalty program and continuing to invest in improving the driver experience."
When visiting the TruckSmart app, drivers will find deals throughout the week on a variety of merchandise. TA, Petro and TA Express locations nationwide will hold special events for drivers, including complimentary cookouts, health and wellness checks, entertainment activities, window washing, mid-trip inspections and tire inspections, and more.
Drivers who follow and comment on #TADriverAppreciation posts during the week will randomly be chosen to receive gift packages. The social media campaign also features a Driver Appreciation Sweepstakes, with one driver chosen each day to receive a special giveaway.
A full list of sites hosting events and other information on the week can be found here.
Shell Rotella
Shell Rotella is celebrating National Trucking Week in Canada (Sept. 7-11) by sharing a complimentary coffee and pastry with licensed commercial truck drivers at select Shell Flying J locations.
Drivers that show their Canadian CDL at select Shell Flying J locations will receive a free coffee and pastry, compliments of Shell Rotella.
Participating Shell Flying J locations include:
Hope Flying J Travel Center in Hope, British Columbia
Sherwood Park Flying J Travel Center in Sherwood Park, Alberta
Balgonie Flying J Travel Center in Balgonie, Saskatchewan
Headingley Flying J Travel Center in Headingley, Manitoba
Mississauga Flying J Travel Center in Mississauga, Ontario
Jubitz
Jubitz Truck Stop will host its annual Driver Appreciation Day event on Wednesday, Sept. 15.
The event will take place at Jubitz's main campus in Portland, Oregon, outside the Cascade Grill with portions of the event indoors. The event will follow all local and state mandates regarding COVID-19 at the time of the event.
This year's event will have a free barbecue lunch for anyone with a CDL from 9 a.m. to 2 p.m., or until supplies run out. Truck drivers will receive free swag bags filled with a variety of prizes from Jubitz and its sponsors.
The event is sponsored by TEC Equipment, McCoy Freightliner, DAT Solutions, Harbor Wholesale, Lynco Products, Daimler, OOIDA, Strive Workplace Solutions, Pacific Northwest Truck Museum, AM-BEST, West Coast Coffee, Sysco Portland, Franz Bakery and Duck Delivery Produce.
C.H. Robinson
C.H. Robinson has launched a digital thank-you campaign and sweepstakes designed to galvanize the nation behind the goal of appreciating truck drivers who continued doing their jobs throughout the COVID-19 pandemic.
The company is encouraging the public to submit notes of thanks to truck drivers. As part of the campaign, C.H. Robinson will give away a total of $50,000 in a cash sweepstakes to truck drivers and carriers during NTDAW, Sept. 12-18. Additionally, the CHR Foundation will donate $1 per thank-you message submitted – up to $25,000 – to the St. Christopher Truckers Relief Fund.
Drivers and carriers can submit their names here to win cash during the sweepstakes. Ten different winners will be selected each day Sept. 13-17 to receive $1,000 each.
Truckers News
Overdrive sister publication Truckers News is hosting its annual "I Luv My Trucker" appreciation event, allowing families and friends of truck drivers to explain why they love the truck drivers in their lives.
That driver may be a spouse, a parent, a child or just a special friend who happens to drive a truck. Regardless of your connection, Truckers News wants to hear from you.
Families and friends of truckers can submit their stories here, along with a photo of their truckers.
Convoy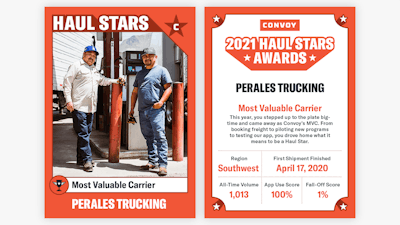 Digital broker Convoy announced on Monday the winners of its third annual Haul Stars Awards, which recognize and honor the best truck drivers and carriers who have hauled loads for Convoy this year.
Coinciding with National Truck Driver Appreciation Week, Convoy named 15 Haul Stars winners, who will each receive their own custom commemorative baseball-style trading card highlighting their accomplishments, along with a complete set of cards featuring all of the 2021 winners, a $500 Convoy Fuel Card, a collection of Convoy merchandise and a note from Convoy founders Dan Lewis and Grant Goodale thanking them for their hard work.
The 2021 winners were selected based on a variety of performance metrics from Convoy's Haul Stars program, a membership group representing hundreds of the most elite and highest performing carriers from Convoy's network of more than 300,000 trucks.
The 2021 Haul Star award categories and winners include:
Most Valuable Carrier – Perales Trucking, Los Angeles, California
Founders' Trophy – National Trucking Services Inc., Kent, Washington
Most Saves – DF Dedicated Freight, Loysville, Pennsylvania
Team Captain – Gurley All Freight, Charlotte, North Carolina
Best Apping Average – Accent Transport Inc., Prospect Heights, Illinois
Most At-Bats – CoastaLINK Logistics Inc., San Diego, California
Rookie of the Year – Triple C&D Father and Son Transportation and Service, Fort Worth, Texas
Power-Only Slugger – High Quality Services, Miami, Florida
Dedicated Hitter – JW Logistics Corp, Haines City, Florida
Northwest Division Champ – Jaimaa Transport, Puyallup, Washington
Midwest Division Champ – Deol Logistics, Indianapolis, Indiana
Southwest Division Champ – Top Gear Transport, Bakersfield, California
South-central Division Champ – Freedom Life Transport, Corpus Christi, Texas
Southeast Division Champ – CMD Carlos Trucking Corp., Fort Lauderdale, Florida
Northeast Division Champ – AMBIY Trucking Inc., Bethlehem, Pennsylvania
DOT Secretary Pete Buttigieg


Federal Motor Carrier Safety Administration


H.K. Truck Center
H.K. Truck Center, located in South Plainfield and Parsippany, New Jersey, put together a heartfelt video to show its appreciation for truckers. The video highlights the simple tradition of the trucker's salute.
The company has also set up a submission form for truck drivers to submit their trucker's salute stories from their travels throughout their career to pass on the positive vibes. The stories will be featured on H.K. Truck Center's Facebook page.
Stay tuned to this post throughout September for updates with more NTDAW deals and events.