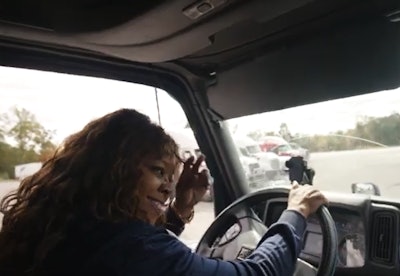 Two years ago lubricants and fuel-additives developer Howes Products launched the Howes Hall of Fame, a digital platform designed to honor outstanding people, places, and things in the trucking and farming industries. The company has now introduced their latest Hall of Fame member, Virginia-headquartered owner-operator Angelique Temple.
Angelique has more than 23 years of professional driving experience, and has always carried a deep passion for the work. At the young age of 12, she spotted a tanker truck while riding with her father and decided then and there that she wanted to drive one for a living. Strongly opposed to the idea, her father told her there was no way his daughter would become a truck driver. Angelique, however, would not be swayed, a story she told as Howes announced her induction to the Hall of Fame as the 8th member to date.
After growing up in New York state, when she was 21, Temple moved to Virginia, attending school to obtain her CDL and hazmat endorsement. She started shortly thereafter driving a tanker truck, and she continued to for the next two decades. Along the way she shattered stereotypes about women in trucking and earned the nickname "Tornado" for her tenacity and the speed and safety with which she turned loads. A fearless but extremely conscientious driver, Temple's racked up safety awards year after year after year with attention to detail and reliability -- some of America's biggest chemical companies ask for her by name.
In 2015, she was recognized as a "Distinguished Professional" in her field by Women of Distinction Magazine. Her long career earned her a spot on the Federal Motor Carrier Safety Administration's Driver Advisory subcommittee to its influential broader advisory committee. As part of her dedication to combating gender inequality, she serves as a member of Women in Trucking's "Image Team." Moreover, she has surpassed two million miles of incident-free driving.
[Related: Trucking radio luminary Eric Harley now part of Howes Hall of Fame]
A dedicated mother of six, Temple's spent many late night and early morning hours on the road to allow for the time to raise her children. Her hard work and ceaseless drive paid off when, one year ago, she became an owner-operator of her own business, Tornado Transport. "The whole time that I was working for companies, it wasn't just me working," she said. "It was me planning and building relationships, getting all my information, and putting all my ducks in a row. I had to know that when I went out on my own, I was going to be successful and not have to turn back."
Today, she enjoys that success along with her children, who have always been her greatest supporters.
Temple's drive extends beyond the bounds of trucking through close involvement in her church year-round, likewise time around the holidays helping charitable organizations. For the past 13 years she has been rescuing pit bulls, who often ride with her in truck. "If I'm not helping people, I'm helping animals," said Temple.
She and her eldest son plan to open a community center, too, where "people can come and learn, come and swim, come and hear lectures" -- even bring their children for daycare, she said.
"Angelique is more than just a hard-working driver or flourishing entrepreneur. She is an absolutely amazing person," said Erika Howes, Howes VP of Business Development. "The minute we heard about Angelique, we were interested in her story. But as soon as we spoke with her, we were truly captivated. She oozes positivity and demonstrates the ultimate can-do attitude. It's been clear from the start that nothing will ever hold her back. She is the type of person who exemplifies what it means to be a role model."
Find Temple's corner within the virtual Howes Hall of Fame via this link. Deserving potential Hall of Fame members can be nominated via this link.