Trucking news and briefs for Wednesday, Feb. 15, 2023:
I-10 closed after truck crash with hazmat spill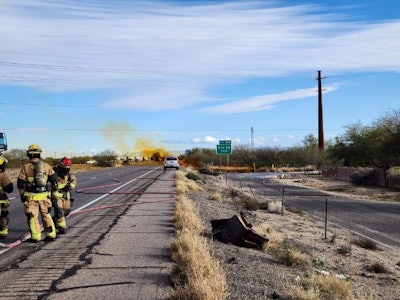 UPDATE: The Arizona Department of Public Safety announced at 6:45 p.m. local time Wednesday that I-10 had been reopened in both directions and detours were lifted. The shelter-in-place and evacuation orders were also lifted for local residents.
Original story follows:
A crash involving a truck carrying nitric acid along I-10 near Tucson, Arizona, Tuesday afternoon has closed the interstate into Wednesday morning, and Arizona officials have issued a shelter-in-place order for a one-mile perimeter around the accident.
According to the Arizona Department of Public Safety, a truck pulling a van trailer rolled over on I-10 Eastbound between Rita and Kolb roads at approximately 2:43 p.m. local time on Tuesday, Feb. 14.
It was determined that the truck was hauling nitric acid in liquid form, which spilled as a result of the crash. The truck driver died as a result of the crash.
The Federal Motor Carrier Safety Administration said in a Facebook post Wednesday morning that it, along with the Federal Highway Administration and the Pipeline and Hazardous Materials Safety Administration, "are working alongside our local partners to investigate the circumstances of the crash, the motor carrier and shipper involved, and to monitor Interstate traffic conditions in the area."
Officials lifted the shelter-in-place order Tuesday evening, but in an update at 4:55 a.m. local time Wednesday, Arizona DPS said the order was reinstated and the closure of the interstate was extended.
According to the update, when crews were attempting to remove the load from the truck, gassing occurred. Crews expect "an extensive closure" of the interstate as a result.
The Arizona Department of Public Safety has a web page dedicated to information about the closure.
New TA Express open in Missouri
TravelCenters of America announced it has opened a new TA Express along U.S. 60 and North Highway E in Norwood, Missouri, about 58 miles east of Springfield.
The new location features 52 truck parking spaces, an Ozark Cafe sit-down restaurant, a Sbarro pizza restaurant, and a Krispy Krunchy Chicken restaurant. It also offers six showers, six diesel lanes CAT scales and more.