Trucking news and briefs for Monday, June 26, 2023:
NHTSA: Estimated highway fatalities falling so far in 2023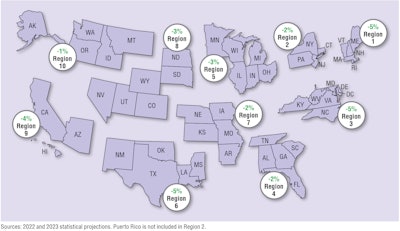 With its most-recent update, the National Highway Traffic Safety Administration projects traffic fatalities for the first quarter of 2023 were down about 3.3% compared to the same quarter in 2022. NHTSA is estimating 9,330 people died on U.S. roadways in the first quarter. It's the fourth straight quarterly decline in fatalities after seven consecutive quarters of year-over-year increases in fatalities, beginning with the third quarter of 2020, NHTSA said.
Preliminary data reported by the Federal Highway Administration show that vehicle miles traveled (VMT) in the first three months of 2023 increased by about 19.3 billion miles, or about a 2.6% increase. The fatality rate for the first quarter of 2023 decreased to 1.24 fatalities per 100 million VMT, down from the projected rate of 1.32 fatalities per 100 million VMT in the first quarter of 2022.
For the NHTSA regional differences in the map graphic above, as shown all 10 regions are showing declines in both fatalities and the fatality rate per 100 million miles, compared to a year ago. Additionally, 32 states are projected to have had decreases in fatalities, the agency said.
The actual counts for 2022 and 2023 and the ensuing percentage changes from 2022 to 2023 will be further revised as 2022 numbers are finalized this year and 2023 numbers are finalized next year. The estimates will be further refined, NHTSA said, when the projections for the first half of 2023 are released in late September.
NHTSA's quarterly fatality estimate reports do not take into account the vehicle types involved in fatal crashes.
[Related: ELDs and highway safety: Crashes, injuries and fatalities rise post-mandate]
Stoughton recalls container chassis over wheel issue
Stoughton Trailers is recalling approximately 1,152 model year 2023-'24 intermodal container chassis, according to National Highway Traffic Safety Administration documents, because the wheel lug nuts are improperly tightened.
The recall states that improperly tightened lug nuts can allow the wheel to detach, increasing the risk of a crash.
Stoughton will inspect and tighten the lug nuts, as necessary, free of charge. Owner notification letters are expected to be mailed June 26. Owners can contact Stoughton customer service at 608-873-2580. NHTSA's recall number is 23V-426.
Great Dane recalling 2,400 trailers with Holland tire pressure regulation systems
Great Dane Trailers is recalling approximately 2,426 model year 2024 Champion and Everest trailers equipped with Holland's Tire Pilot Plus (TPP) tire pressure regulation system.
According to the recall, all 8 tires may experience a loss of tire pressure while driving faster than 45 mph. The condition exists on Tire Pilot Plus models with electronic control units, which were first supplied to Great Dane beginning in December 2022. TPP units that are controlled by a manual pressure adjustment feature are not impacted by the defect.
As an interim action, Great Dane will instruct owners to disable the Tire Pilot Plus system. The final remedy is currently under development. Owner notification letters are expected to be mailed Aug. 8. Owners can contact Great Dane customer service at 877-369-3493. NHTSA's recall number is 23V-427.
[Related: Solutions found for tricky PTO install]
New feature in Convoy app allows easy reporting of trafficking activity
The Convoy brokerage/digital freight platform announced today an in-app feature for users aimed at fighting human trafficking. The new feature enables the 80,000 carriers in Convoy's network to flag suspicious behavior and take action when they encounter potential cases of human trafficking.
A crime of exploitation, such trafficking affects individuals worldwide. Truck drivers are in unique position to help, with enhanced opportunities during their travels to identify potential victims of human trafficking and report suspicious activity they encounter.
Building on an existing partnership with Truckers Against Trafficking (TAT), Convoy integrated a one-click reporting feature within the Convoy app through which drivers can now text, call, or submit a tip to the national human trafficking hotline operated by Polaris.