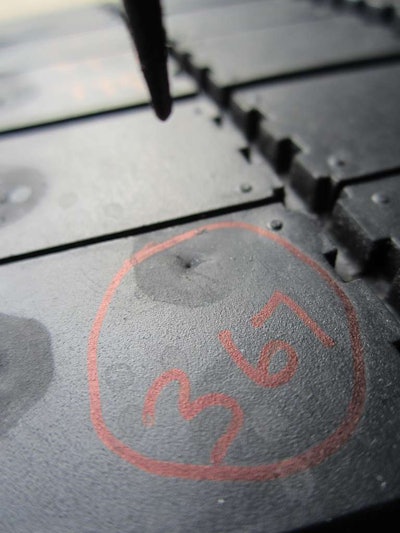 Goodyear gave Mid-America Trucking Show attendees the chance at puncturing and possibly disrupting the tire inflation of one of its G394 SST wide-base trailer tires last month at the manufacturer's show booth.
Their tools? A hammer and nail.
Several hundred show attendees took them up on the proposition, but out of the 367 nail holes jabbed into the tire, none had an impact on tire inflation, says Goodyear.
The credit is due in most part to the company's new DuraSeal technology, which seals tread area punctures of up to 1/4-in. in diameter. DuraSeal is a yellow, gel-like rubber compound that instantly seals punctures in the tire's tread area. As a nail enters the tire and reaches its inner liner, the gel surrounds the puncture to seal the leak.
Tim Miller, marketing communications manager for Goodyear, said "If the nail is pulled out, DuraSeal can instantly fill the hole and keep air from escaping."