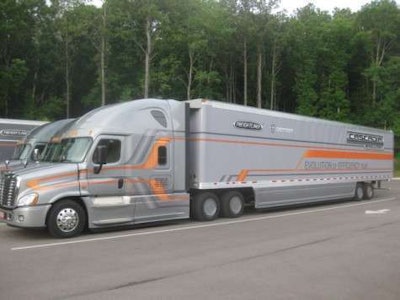 In May independent Albert Transport owner-operator Henry Albert participated in a test run of the 2014 Freightliner Cascadia Evolution (pictured) to track and compare its fuel-efficiency against an EPA 2010-compliant Cascadia. We reported about the test just last week. This week, he's been sharing results of this unique experience over on his blog as part of Freightliner's Slice of Life program — offering windows into owner-operators' experiences with their Cascadia model updates.
Albert was tapped to drive the Evolution on the run from San Diego to Gastonia, N.C., May 17-22. And if you think six days is a long time to take to run across the country, as Albert noted, it is, but "much more goes into an 'official' test than driving the truck." Follow along with how fuel-mileage results progressed over the haul via Albert's blog, linked here. He's posted through Day 2 as of this writing, on which the Evolution jumped to more than 8 mpg average fuel mileage after a 6-plus-mpg Day 1 with big hill climbs.
Find more about Albert via this link to our coverage of his pursuits since he was named 2007 Overdrive Trucker of the Year.