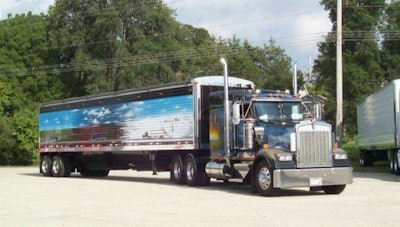 In the Truck Gallery section of the July issue of Overdrive, there's a short write-up on Jason Arneson's '05 Kenworth W900L, pictured here, that says current driver Travis Olson took on driving duties after Jimmy Spiech, the intended driver of the truck, died before driving.
In fact, though, Spiech did drive the truck for about a year and a half, Olson says, and took it to several shows, including the 2006 Mid-America Trucking Show in Louisville, Ky., and some small events in Nebraska.
Spiech died in 2006, and Olson became its driver in July 2007.
The truck and trailer, which Olson says he simply calls "Jimmy" ("That was one of the hardest things I had to do [when I took over driving it], to accept the fact that the truck would never be mine," Olson says, "It's always going to be Jimmy's, so I call it Jimmy."), represent "fun time and work time," Olson says.
The truck itself has painted on it beach scenes, as Jimmy took annual trips to "Cancun, the Bahamas, all those fancy tropical places," Olson says. "So that's what the truck represents — fun time."
The trailer displays a more reverent tone — "Work time," Olson says, and it dons on one side depictions of the trucks he drove for Jerry Arneson (the founder of Jerry Arneson Trucking, who died in 1995), and the trucks he's since driven for Jason Arneson (Jerry's son) on the other.
Spiech was something of a treasure to Jason after his father passed in '95, as he was one of the three drivers (of 11) that stayed with Arneson through the transitional period. So he and his mother, Sharon, gave him personalized trucks every few years to show their appreciation.
"They built that truck just for him," Olson says. "I'm just the lucky soul that gets to drive it now."