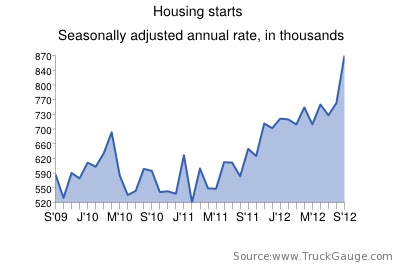 As reported on Overdrive sister site CCJ today, the number of new housing starts saw quite a jump in September — after months of steady, albeit very slow growth, the number of houses that began construction in September jumped a whopping 15 percent from August to its highest numbers since 2008 and up 34 percent over last September.
Check the graph to the right for general trends since Sept. 2009, but this can only mean good things for flatbed haulers — especially in the regions where materials are moving for these new developments. Moreover, the housing market has been one of the key issues in holding back recovery from the 2008-2009 recession. If construction on new homes starts zipping and turnover among already-existing homes picks up, economic recovery will no doubt follow, meaning, perhaps, more than just flatbedders should be ready.
What do you make of the spike in house starts in September? Will the trend continue?