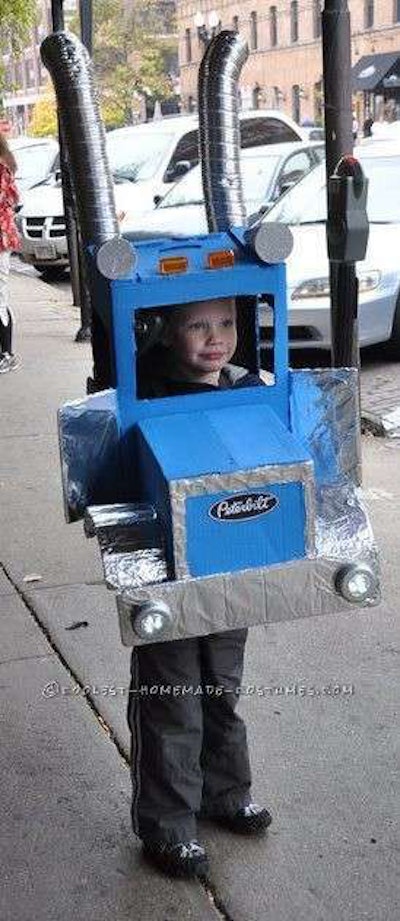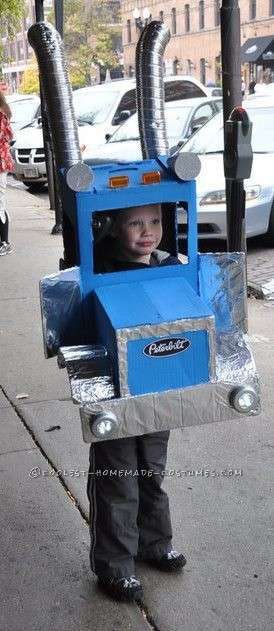 Posted on Twitter Tuesday by Paccar Financial's Twitter feed and subsequently retweeted by Peterbilt itself (@PeterbiltMotors) was this message: "And why wouldn't you want to go as a Peterbilt for Halloween?!" with a link to photo seen here.
The photo was originally posted to the Coolest Homemade Costumes site by Kristin, a mom from Gretna, Neb., before being picked up by Pinterest, where it gained a virality of sorts. On the homemade costume site, though, it's labeled as "Awesome Child's Peterbilt Truck Halloween Costume," and Kristin wrote that her son, who's 5, is "obsessed with 'big trucks.'"
"The only thing he wanted to be for Halloween was a Peterbilt," she writes. She made the truck body out of three boxes, painted them blue, then "used tin foil for the chrome, LED push lights for the headlights, dryer vent stacker for the exhaust stacks."
"He loved his Peterbilt truck Halloween costume!" she said in the description. "It was a huge hit with his cousin and all his friends, too."
Does this inspire you for next Halloween?