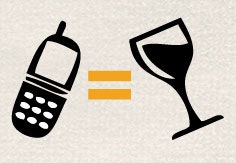 Did you know that use of a cell phone while driving delays driver reactions as much as having a blood alcohol level of 0.08 percent? That concentration comes from consuming two to four drinks in an hour, depending on your weight.
Atlas Van Lines has put together a clever infographic highlighting this and similar statistics about distracted driving and safety. Another tidbit about the cell phone is that using it reduces brain activity designated to driving by 37 percent. Considering the level of brain activity some four-wheelers devote to driving, getting on the phone must put them in negative territory.
The graphic is worth skimming just to see the collection of bizarre highway laws from 10 states. Should you be hauling during this extended holiday weekend, or even hitting the road as a four-wheeler to visit families, be forewarned.
If you're in Alabama, driving while blindfolded is not allowed. In Tennessee, it's illegal to drive while sleeping. Should you find yourself in Alaska, make sure you're not caught driving with your dog tethered to the roof.
And for those motoring through West Virginia and too broke to buy a turkey, don't even think about scavenging road kill.