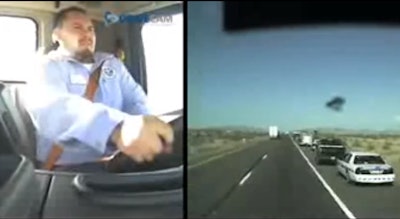 Sad and somewhat horrifying news from Arizona this week reinforces the toll distracted driving can take on life and limb — and trucking's image.
A Yuma, Ariz.-based driver for Evans Dedicated Systems out of Commerce, Calif., was allegedly using his phone while driving to look at provocative pictures of women, escort sites, porn, Facebook, YouTube and other sites last week when he crashed his truck into several firetrucks and several police cruisers who were responding to a wreck in the middle of Interstate 8 in Yuma County, according to a report from the Arizona Daily Star.
One of the officers, who was sitting in his cruiser, was killed, the article says.
The phone-handling driver, Jorge Espinoza, has been charged with second-degree murder, endangerment and criminal damage.
I'd also be willing to wager we'll receive a notice from the Federal Motor Carrier Safety Administration within the next few weeks saying the Espinoza's been barred from driving.
Espinoza's carrier had installed in the truck one of the driver management systems — a forward-facing and driver-facing camera combo that mounts to the truck's dash — that filmed both the accident and Espinoza driving before, during and after the accident occurred.
The video is violent and horrifying. It's linked to here, and I've embedded it below, but I caution you with the disclaimer of how gut-wrenching the video is, especially knowing a police officer died from during the wreck.
Espinoza had the driver-facing camera blocked with his wallet, so it's hard to see him before. After he makes contact you can see his phone fly out of his hand.
It seems from the video as if he didn't even look up before hitting the police car, and the Daily Star article says Espinoza was driving 65 mph and had his truck on cruise control.
[youtube l1Tc0qtLA2E nolink]