A good title says a lot, and this week's GAO report on FMCSA's CSA and its faulty SMS does fairly well: "Modifying the Compliance, Safety, Accountability Program Would Improve the Ability to Identify High Risk Carriers."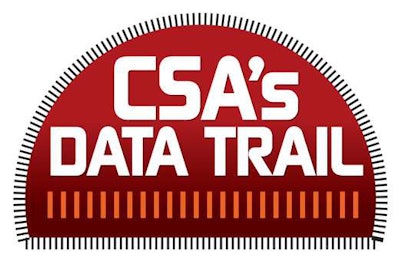 (Should you care to spoon out the remaining letters from the alphabet soup, that's Government Accountability Office, Federal Motor Carrier Safety Administration, Safety Measurement System.)
If you harbor any doubt about GAO's conclusions, you can review the 100-plus-page document. Or you can review the much shorter, but still in-depth reporting by Overdrive Senior Editor Todd Dills. With the March ("Inconsistent enforcement") and May ("Crashes and interventions") issue installments of our CSA Data Trail series, Dills scooped GAO by at least seven months and nailed many of the same major points that GAO does.
Check the story titles below, this time from our coverage, and you'll see other angles on the CSA mess GAO addresses. These and other stories, as well as an interactive U.S. map plotting inspection intensity measurements, violation priorities, crash intensity and more by state, can be found at our comprehensive CSA Data Trail site, shared with sister publication Commercial Carrier Journal.
"Risk & Reward: How CSA's data shows discrimination toward small carriers."
Inconsistent enforcement: CSA v. the independent
FMCSA has been hearing bits and pieces of these and other criticisms of CSA for years. Let's hope the detailed account of the program's flaws accelerates needed changes.