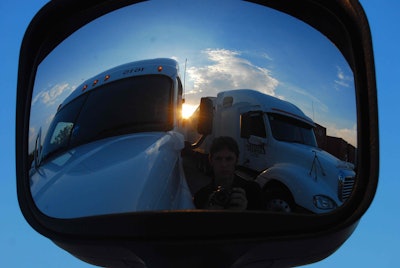 Line items in publicly available financial reports from some of the country's largest carriers show a large chunk of freight contracted to such carriers is doled out to smaller carriers, according to figures published last month by shipper-carrier connection platform LaneAxis.
Freight being subcontracted to smaller carriers from larger ones is not news to the industry. But LaneAxis says its research shows the practice is perhaps more prevalent than previously thought, given 42 percent of total bookings, says LaneAxis, are pushed to third-party carriers.
LaneAxis makes the case in its report that shippers should seek platforms, like its own, to find carriers, rather than using large carriers as middlemen, saying shippers would receive "more transparency" and lower costs when hiring the smaller carriers directly.
Multiple requests for comments made to some of the carriers listed in the report regarding LaneAxis' conclusions went unreturned.
To determine the 42 percent figure it's purporting, LaneAxis compared carrier's freight-derived revenue to so-called "purchased transportation." The difference between the two, says LaneAxis, equals the amount of freight outsourced to smaller carriers.
LaneAxis looked at financial earnings reports from 13 of the country's largest trucking companies, finding a combined annual revenue in 2015 of $42.2 billion. Purchased transportation — freight outsourced to smaller carriers, it says — then equaled $17.84 billion, or 42 percent of the total combined annual revenue. Of the 13 carriers in LaneAxis' report, some outsource as much as 75 percent (an owner-operator heavy carrier; in line with LaneAxis' findings), while others outsource less than 1 percent.
Though LaneAxis didn't have data on the carriers (or their size) receiving the subcontracted loads, it estimates most of the freight goes to carriers with six trucks or fewer. It bases that number on percentage of DOT-registered carriers who report being that size — 97 percent.