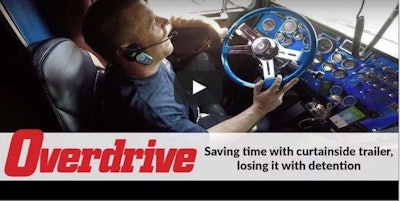 I wrote recently about the recent survey of carriers and brokers in DAT Solutions' load board network regarding detention. I also briefly mentioned getting to ride with flatbedder Jeremy Johnson, leased to Blair Logistics of Birmingham, Ala., and experiencing with him hours of senseless detention. It's the too-common reality for Johnson and many of you. He ranks long detentions as the biggest problem with his job: "No accountability on shippers and receivers."
In the video above, Johnson talks about detention, how he's treated at Blair and the efficiency gains from using a Fastrak curtainside system he's put on his 1999 Reitnouer flatbed.
The day I rode with him, we showed up at a plant on time at 9:30 a.m. to drop a steel coil. After some discussion at the receiving desk, Johnson learned that a Blair driver who'd arrived earlier was given Johnson's bill of lading number, wrongly assuming some prior mistake. Johnson found the driver still in the lot, waiting to deliver. They compared notes, confirmed the problem, but there was no fixing the problem at this point.
"So now you get your phone out, take a nap, find something to occupy your time," Johnson said. "I just sit here and wait till they get it all sorted out at my expense."
He seized the opportunity for napping in the bunk of his 2000 Peterbilt 379, his first truck, powered by a 3406E Caterpillar. He woke at 11:45 and went to the receiving desk, learning he was behind five trucks.
Johnson rolled back his curtainside and undid most of the securement so he'd be ready for a quick unload after backing in. He's a big fan of his curtainside investment, noting it protects straps and other equipment from early wear, and saves hours per week that would've been spent tarping or removing a tarp.
It was 3 p.m. before he unloaded. He received no detention pay.
Blair Safety Director Jeff Loggins says that most of Blair's contracts with detention pay kick in after two to four hours, but even then, payment is often slow or uncertain. Unless Blair gets paid, the owner-operator gets nothing.
Johnson is one of Blair's best drivers, serving on Blair's Safety Council, Loggins says. "He doesn't damage freight," he says. "I don't think he has any CSA points."
He's proactive, too, such as when he sees other Blair drivers loading. "If he sees them doing it not the way we teach it or by DOT standards, he'll go up and try to talk to them about it."
Like any owner-operator, Johnson, 35, doesn't like the way excessive and unpredictable dock delays keeps him away from his family in Lawrenceburg, Tennessee. Ideally, he says he'd like to get a more dedicated route that allows for more home time.
Even with the occasional excessive detention, Johnson says he's been able to earn $80,000 to $100,000 in some recent years, though much less in the soft freight market of 2015. Many of his trucker friends don't make nearly as much, but he's learned "a lot depends on how much effort you put into it."