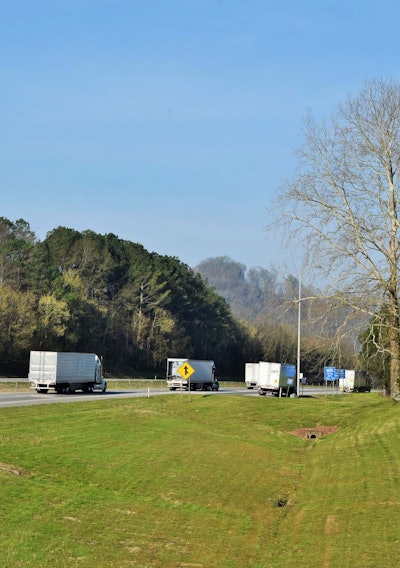 Have you seen that vigilante man?
Have you seen that vigilante man?
Have you seen that vigilante man?
I been hearing his name all over this land. —Woody Guthrie
Perry, Ga.; Williamsburg, Ky.; and many others. Add Berea, Ky., to the list of locations where the pox of the private parking police continues its coverage of the South like so much kudzu — at least when it comes to Walmart properties where the asphalt is plentiful and fines began at $75 in Perry, around May of 2017, when owner-operator Desiree Wood's vehicle was disabled.
If the latest example is any indication, fine amounts are on the rise to north of $500 in some spots, as a variety of factors — including implementation of the ELD mandate — place unprecedented strain on the nation's fragmented truck parking infrastructure, forcing drivers more and more into undesignated spaces. Last week, we got a glimpse into what the private parking police look like when one Brad James, Florida-based tanker operator leased to Heniff Transportation, found his bobtail Pete an unwilling client of Walmart's hired gun, R and R Parking Management, to the tune of $560. At around 3 a.m. in the wee hours Friday, Mr. James, well known to regular readers of this publication through his avocation as a singer-songwriter, went live on Facebook after being awoken by an employee of R and R, a nice young man named Seth Willis.
Willis informed him that his vehicle had been disabled. And that he had two hours to pay $560 or else he would be towed, which would accrue additional charges.
"We can't knock hard. My boss told us not to anymore."
Mr. James, video camera in hand and keeping his composure admirably, questioned the young man as to why he didn't simply wake him up and ask him to leave. Mr. Willis insisted he had knocked, but James simply had not heard him. "We can't knock hard. My boss told us not to anymore," Willis said. "We used to knock hard, but a guy came out with a gun."
When we attempted to find R and R Parking Management to see whether anyone could corroborate the gun-wielding-trucker account, which apparently forced R and R's employees to knock softly during a 3 a.m. monetizing of a bobtail to the tune of $560, it was like looking for a ghost. There was nary an internet search that could locate the phantom booters.
Shortly before paying his "fine," Mr. James was informed by the attendant, "We could charge $1000 if we want to," and therein lies the crux of the question. That Walmart has the right to enforce its own parking policies on its own property is undisputed; but what's behind the exorbitant fines?
In an interview with an actual Walmart store manager, who shall here be called Mark , accounts of unreported incidents of damage, light posts toppled, bags and bags of human excrement that someone had to clean up, were to blame. In an interesting twist, Mark told me that it wasn't the "old school drivers; it's these new guys."
While one can sympathize with this manager's position, the imposition of fines of this magnitude constitutes, to this gearjammer , nothing short of corporate vigilantism. Walmart, without any hope for drivers of judge, jury or court-appointed officers, imbues R and R with the power of absolute law when it comes to where heads might be rested in a landscape of seemingly fewer and fewer choices.